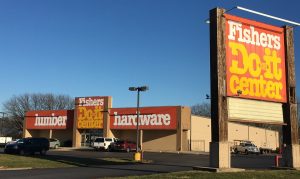 The longtime, family-owned Fishers Do-It Center is undergoing a remodeling and a name change after being acquired by the owner of White's Ace Hardware stores in Indianapolis and in Carmel.
Steve White, owner of White's Ace Hardware, purchased the property and the business at 11881 Lakeside Dr. (just off Allisonville Road and north of East 116th Street) in December for an undisclosed amount. The store has been letting customers know about the name change to White's Ace Hardware and Garden Center.
Gray Tweedy, 61, who has been an owner and operator of the Do-It Center with his family since 1989, decided to sell the store so he could retire. Fishers has grown from about 6,000 residents to more than 91,000 since the store opened 30 years ago.
At 70 years old, White hadn't been planning to take on a new project but couldn't resist the opportunity. He'd opened three hardware stores since 1977, and was still dealing with the sale of his Nora store.
White's Ace Hardware first opened on the west side of Indianapolis in the Chapel Hill shopping center before moving in 2001 to 86th Street and Westfield Road in Nora. White then opened stores at  Carmel in 1984 and at 10941 E. 79th St. in the Geist area of Indianapolis in 1988.
In 2018, White sold the Nora location to developer TWG Development LLC to make room for a $27 million apartment complex.
"We were still closing out the inventory of the Nora location, and I was seriously thinking about winding down quite a bit," White said. "But, we've always been interested in that location, so I've quickly wound back up. It has been a huge project to renovate that store."
Ace Hardware's corporate representatives come through Indiana to scope out new locations about once every three years, White said, and it just so happened that Tweedy was getting ready to retire.
Now, White is planning a two-month remodel of the 20,000-square-foot Fishers location.
"It's going to look like a brand new building when we're done with it," White said. "Be patient, because it's going to be a mess, but it's going to be a really state-of-the art Ace Hardware store."
White said he's replacing the current garden area with a 10,000-square-foot garden center, similar to those at his other stores, with cashier stations. Other upgrades will include a new facade, floors, lighting, paint and 25 additional parking spaces.
White also plans to add new brands, including Stihl power equipment; Toro mowers; Benjamin Moore paints; Traeger, Weber and Saber grills; DeWalt, Craftsman and Milwaukee tools; house plants and pet food.
Unlike White's other stores, the Fishers location won't have a drive-thru area for bagged goods. White said those items will be available outside the garden center.
Almost all of the 20 employees working at the Fishers Do-It Center agreed to stay, White said, but he's planning to consolidate a few of the part-time positions into full-time spots for a final staff of around 14 employees.
"That was one of the beauties of that location," White said. "There was a really good, longtime staff there."
White laughed as he said the "doggone" complimentary popcorn will also be a familiar holdover from the previous ownership.
The Tweedy family's involvement in the hardware and lumber business dates back more than a century. Jack Tweedy, who co-founded the Fishers Do-It Center and died in 2017, was the longtime owner and president of the Tweedy Lumber Co., which was founded in 1908 and had location in Carthage, Knightstown and Rushville.
"After 111 years, the Tweedy family is retiring from the hardware and building materials business," the family said in a Facebook post. "We have been so blessed by a community that has embraced and loved us from day one. It's been a wonderful 30 years here in Fishers and your kindness and support will never be forgotten."
Please enable JavaScript to view this content.