A local apartment developer is moving forward with plans to build a $27.1 million, 186-unit project near a prominent intersection in Nora despite strong opposition from neighbors.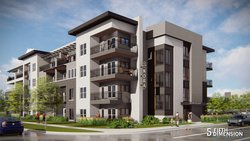 TWG Development LLC received approval Wednesday from the Metropolitan Development Commission on its request for the rezoning of 4.3 acres at 8502 Westfield Blvd., just south of the Steak n Shake on East 86th Street on the city's north side.
The site has been home since 2001 to an Ace Hardware store operated by Steve White, who has agreed to sell the property to TWG to make way for the apartment development. The site was home to a Furrow Building Materials store before White acquired it.
White, 67, also operates Ace Hardware stores at 10941 E. 79th St. in Indianapolis and at 731 S. Rangeline Road in Carmel, and is starting to scale back operations, TWG's attorney, Joseph Calderon, told commissioners.
Called the Notch at Nora (click image above for larger view), the project would feature 18 studio units (575 square feet), in addition to 98 one-bedroom (750 square feet) and 70 two-bedroom (1,080 square feet) apartments. Expected monthly rents will be $995 for the studios, $1,275 for the one-bedroom units and $1,725 for the two-bedroom units.
The units would be spread throughout three buildings, each four stories tall.
Amenities would include a common lounge area with full kitchen, free resident coffee station, fitness center, secure bicycle storage and a private pool deck with a grilling area.
TWG also said it would provide two entry points to the adjacent Monon Trail and 216 parking spaces, which it says is more than what city code requires.
The parking issue is a major sticking point for the Nora-Northside Community Council, a civic organization that opposes the project.
"We were dismayed to learn of the high density and lack of adequate parking," Council President Ruth Hayes told commissioners. "The site in question poses problems, unlike downtown or even Broad Ripple, for that matter. What works there is not appropriate for car-centric Nora."
Several neighbors expressed concerns about visitors to the apartments, without enough parking, being forced to park on nearby side streets. One, citing the project's density, referred to it as a "concrete jungle." Another said the buildings' four-story heights would stick out like a "sore thumb."
Commissioners ultimately voted 5-3 to grant the rezoning request.  
TWG said it plans to begin demolition of the store in December and leasing of units in April 2019.
The architect on the project is Birmingham, Alabama-based Fifth Dimension Architecture & Interiors LLC.
Please enable JavaScript to view this content.