Fast-casual restaurant chain Schlotzsky's, which withdrew from Indianapolis more than a decade ago, is laying the groundwork for a return to the market.
Coincidentally, so is Cincinnati-based Buffalo Wings & Rings, which briefly operated a downtown Indianapolis location in 2010.
Atlanta-based Schlotzsky's, which has 380 locations in 34 states, is scouting locations and talking to potential franchisees in the Indianapolis market.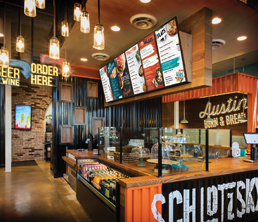 Schlotzsky's wants to be a little more prudent in rolling out its Austin eatery concept. (Image courtesy Schlotzsky's)
"We're looking for, initially, three sites," Schlotzsky's President Kelly Roddy told IBJ. "We'd feel really good if we got something open by next summer." Eventually, Roddy said, the company believes the Indianapolis market could support about 20 locations. But Schlotzsky's isn't interested in the type of rapid growth that led to the company's financial difficulties years ago.
When the company came to Indianapolis in 1993, it had 240 restaurants in 25 states. It went public in 1995, and during a four-year stretch in the mid- to late-1990s Schlotzsky's opened more than 100 stores per year. By 1999, the company had 760 locations.
Under its business model at the time, Schlotzsky's bought property and built stores first, then sought franchisees to take over those locations. The setup led to financial strain, and Schlotzsky's filed for bankruptcy protection in 2004. By 2007, when Roddy joined the company, the chain had left the Indianapolis market.
After emerging from bankruptcy Schlotzsky's went private. Today it is a subsidiary of Atlanta-based Focus Brands Inc., whose other holdings include Auntie Anne's, Carvel, Cinnabon, McAlister's Deli and Moe's Southwest Grill. Focus' parent company is Atlanta-based private equity firm Roark Capital Group. 
Under Schlotzsky's present business model, it's the franchisees who are responsible for the up-front costs of buying or leasing a location. "It's a much, much different world today for us," Roddy said.
The customer experience will also be a bit different this time around. The Indianapolis locations will be built using the company's new concept, Schlotzsky's Austin Eatery. The concept features decor and menu items inspired by the Texas city's unique food culture, including items like chipotle steak sliders and brisket street tacos. 
Schlotzsky's just started rolling out its Austin Eatery concept, which it will eventually use across the entire chain. 
Roddy said Indianapolis is among a handful of cities that Schlotzsky's is targeting now because its population density, demographics and traffic patterns fit the company's model. Other markets on the expansion list include the North Carolina cities of Charlotte and Raleigh, and Nashville, Tennessee.
Meanwhile, Buffalo Wings & Rings is planning its own return to Indianapolis.
The chain, which serves chicken wings, burgers, salads and other items in a sports-themed environment, has 80 locations, including six in Indiana in Bedford, Greendale, Greensburg, Jasper, Portland and Richmond.
The company had a short-lived Indianapolis location, at 111 W. Maryland St., which closed in 2010. That spot is now occupied by Dick's Last Resort.
From that experience, Buffalo Wings & Rings "kind of learned that we do not belong downtown," said Chief Development Officer Philip Schram. Schram said the chain's niche is in "elevated food and elevated customer service" in a family-friendly atmosphere. "Clearly, we belong to the suburbs."
The locations for the Indianapolis stores will depend on who the franchisees are, Schram said. 
The company's existing franchise group, whose members mostly live in the Greendale area, might end up opening some additional stores within the Indianapolis market. Buffalo Wings & Rings might recruit new franchisees. Or, Schram said, the stores might be owned by a combination of existing and new franchisees.
If all goes according to plan, Schram said, the first Indianapolis-area stores will open at the end of next year or in early 2020.
In other news of the week, we start off with a closing of note:
— The Tie Dye Grill, at 7055 E. 16th St. inside Moose Lodge 17, will be closing its doors later this month.
"It is with a very heavy heart that we are announcing that we will be closing our doors for the last time July 27th," the restaurant posted on its Facebook page July 9. "It's been a perfect storm of circumstances—equipment, health, business levels, location and many other factors played into this decision."
The eatery had previously been located at 1311 N. Shadeland Ave., across the street from Ray Skillman Kia.
Now, on to some openings:
— A choose-your-own-topping doughnut shop, The Donut Experiment, will open this fall at Glendale Town Center, 6159 N. Keystone Ave., Suite 400. Tracy Lee, who owns the Indianapolis location, told IBJ she expects to be open the first week in September.
Starting with a fresh-made cake doughnut, customers can select from an array of icings and toppings, from traditional glazes to less conventional flavors like key lime, maple bacon and Sriracha hot sauce.The Donut Experiment opened its first store in 2012 in Anna Maria, Florida. That shop, owned by the husband-and-wife team of Shawn and Cecelia Wampole, was originally known as Anna Maria Donuts. The chain has nine franchised shops in Florida, Illinois, Iowa, Massachusetts, Ohio and South Carolina.
— Downtown Indianapolis, already teeming with steakhouses, will add another one to the mix when Tony's of Indianapolis opens later this summer. A grand opening is set for Sept. 4. The restaurant will occupy 110 W. Washington St., which housed the Indianapolis Colts Grille until it closed a year ago.
Tony's of Indianapolis will be the third location for Cincinnati-based Tony's Steaks and Seafood, which also has restaurants in Cincinnati and in Lexington, Kentucky. The local steakhouse will include two bar areas and a wine room, patio dining, a private dining room and an "Executive Power Room" for business meetings or small conferences. It will also feature live music each Friday and Saturday evening, according to a blog post on Tony's of Cincinnati's website. 
When Tony's first announced its plans to add an Indianapolis site, the company said the city's concentration of steakhouses was what convinced it to enter the market. "The reason for Indianapolis was simple: Indianapolis has a palate for steakhouses, currently supporting 13 of them, all performing above the national average," Tony's said in a written statement last year.
— Gauchos Brazilian Steak House opened its second location this week, at 6935 Lake Plaza Drive in the Avalon Crossing shopping center just east of Binford Boulevard and south of East 71st Street. It took over a space formerly occupied by a Chinese buffet. Gauchos also has a location on the south side of Indianapolis, at 8810 S. Emerson Ave. 
— The "paint-and-sip" establishment Wine and Canvas on the south side of Indianapolis has a new location and new ownership. Wine and Canvas Indianapolis South LLC, owned by Jess Taylor and Troy Cooper, opened July 1 at 1551 E. Stop 12 Road, just south of Indy Honda at the corner of Stop 12 Road and U.S. 31.
Its previous location was in the Emerson Pointe shopping center at the corner of County Line Road and Emerson Avenue in Greenwood. The owners of that location were Tony and Tamara Scott.
Wine and Canvas offers workshops, open studio hours and private events where patrons can make a piece of art to take home while sipping wine or cocktails. The company also offers Cookies and Canvas programs for children.
Wine and Canvas is an Indianapolis-based company that opened its first shop in 2010. The company now has 36 studios in 19 states, including a north-side Indianapolis location at 5151 E. 82nd St. and one studio each in Bloomington and South Bend. 
— Grand Slam Sports is now open at Castleton Square Mall. The retailer, which sells licensed sports apparel and accessories, now has two locations; its first store, at Circle Centre mall, opened in 2015.
Please enable JavaScript to view this content.