Strategic Capital Partners LLC and Goodwill of Central & Southern Indiana have broken ground on a $28.5 million, 208-unit apartment project at the southwest corner of Michigan Street and White River Parkway that they hope will attract people who are priced out of downtown's market-rate apartments, some of which rent for more than $2,000 a month.
The two-building, four-story complex, called Riverview, will target individuals who make between 61 percent and 120 percent of the area median income, or those who make between $30,000 and $60,000 annually. Rent will start at an estimated $600 per month for a 450-square-foot studio apartment. The complex will offer unfurnished studio, one- and two-bedroom units.
"This is nice for individuals in the 61-120 percent who make too much for low income, but not enough for market rate … this really provides an opportunity for our police officers, nurses and teachers," said Kent Kramer, president and CEO of Goodwill of Central and Southern Indiana.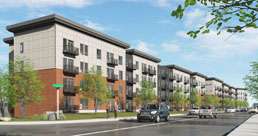 Riverview is designed to attract people who are priced out of downtown's market-rate apartments. (Image courtesy Strategic Capital Partners)
Will Zink, senior vice president of Strategic Capital Partners, said that while the project is designed to offer middle-income housing, the project will include amenities seen in market-rate and upscale projects.
Riverview will include a gym, surface parking, a coffee bar and outdoor areas, including a dog park to go along with Riverview's pet-friendly apartment policy. Zink said interior finishes include granite countertops, stainless steel appliances and other items usually found in market-rate housing.
"We're very excited to get this underway," Zink said. "We'd like to do more of this … it's needed in Indianapolis and other cities … We want to meet the demand of other areas."
Gene Zink, executive chairman of Strategic Capital Partners and father of Will Zink, previously chaired the Goodwill board of directors that in 2015 selected Kramer to replace longtime Goodwill president and CEO Jim McClelland, who retired.
The Goodwill connection between Gene Zink and Kramer goes back at least 15 years, and Kramer said they've been discussing a project like Riverview almost as long. In 2016, Goodwill released a request for proposals from outside developers and officially partnered with Strategic Capital Partners' proposal for workforce housing.
The partners first unveiled their plans for a $26 million, 220-unit apartment complex to Property Lines in April 2017. At the time, they hoped to begin construction by the fall of 2017. Instead, the developers faced an almost year-long delay, mostly fueled by a lack of funding, Kramer said.
After an unsuccessful attempt to finance the project with the city's share of federal New Markets Tax Credits, the development team managed to secure $4.2 million in single-site Tax Increment Financing, with help from city officials and other community partners. Goodwill and Strategic Capital Partners split the remaining project cost.
Initially, plans for Riverview included office space for Goodwill workforce training programs, but the offices were scrapped as development talks progressed. "We're still going to utilize the site as training for our buildings and grounds employees," Kramer said in a phone call.
Goodwill trainees could serve as landscapers, maintenance workers or janitors in the space. Residents are also within walking distance of the Goodwill of Central & Southern Indiana's headquarters, which sits west of the property, and a Goodwill Excel Center, which offers tuition-free high school programs to adults.
Will Zink said pre-leasing for Riverview apartments should begin by the fall of 2019.
RentCafe, a website that examines rental trends in major American cities, reported the average rent for Indianapolis apartments stands at $819, a 3 percent increase from the 2017 average.
"We really do believe in a strong community as a diverse community, and that includes the rent structure, the variety of housing … including low-income and market-rate housing," Kramer said.   
Please enable JavaScript to view this content.