Online car retailer Carvana LLC is bringing its signature "car vending machine"—a structure that's both a delivery center and a brand-booster—to the north side of Indianapolis.
The seven-story structure is now under construction at 8130 Summit Hill Drive. It's just southwest of the Interstate 69 and East 82nd Street interchange and visible from I-69.
The Tempe, Arizona-based company, which entered the Indianapolis market in late 2016 and is extremely tight-lipped about its plans, declined to comment on the project.
The seven-story structure, near I-69 and East 82nd Street, will be a pick-up point for vehicles purchased online. (IBJ Photo/Eric Learned)
But according to permit applications filed with the city of Indianapolis, Carvana plans to build a 7,872-square-foot vehicle delivery center, complete with a seven-tier display tower for vehicles awaiting pickup.
Marion County property records show that Carvana purchased the land for the project this spring.
The concept, which Carvana calls a car vending machine, is a place where customers can pick up their purchased vehicles rather than having them delivered. Customers insert a special token, which activates the vending process and moves the vehicle into a delivery bay. 
Carvana's first car vending machine opened in Nashville, Tennessee, in 2015 and the company has been adding the structures at a rapid clip since then.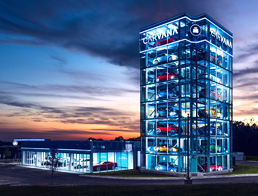 On July 19, the company opened its 13th car vending machine, in Cleveland (see rendering at right). Other car vending machines are in the Texas cities of Houston, Austin, San Antonio and Dallas; the North Carolina cities of Charlotte and Raleigh; the Florida cities of Jacksonville, Tampa and Orlando; Washington, D.C., and Tempe, Arizona.
As of March 31 Carvana was operating in 56 markets. 
In areas where car vending machines are available, local customers can opt to have their new cars delivered to their door, or they can take delivery of the car at a vending machine.
The eye-catching structures serve dual purposes, Carvana explained in a recent earnings report. 
"Our vending machines provide an attractive and unique customer pickup experience, developing brand awareness while lowering our variable vehicle delivery expense," the company wrote in a May filing.
Depending on the size of the structure and local market conditions, Carvana said in the filing, it costs about $5 million to build each car vending machine.
Incidentally, Carvana is also working to open a car storage and refurbishment facility in Hancock County, on a portion of the property where Indianapolis trucking company Celadon Group Inc. had planned to build a new headquarters. Celadon sold 70 acres to Carvana for the project.
In the big picture, it may be too early to deem Carvana a success.
The company, formed in 2012, entered its first market in January 2013. As of Dec. 31 it had sold 71,900 vehicles, generating $1.4 billion in revenue, the company said in its 2017 annual financial report. 
But Carvana has yet to turn a profit, and as of Dec. 31 its accumulated losses totaled $316.9 million.
Switching gears, a few openings to note: 
— A new fitness studio, Club Pilates, is planned for Greenwood, at 1675 W. Smith Valley Road at State Road 135. Local owners are the husband-and-wife duo of Jamie and Todd Williams. The tentative opening date is Oct. 4.
The facility's classes focus mostly on Pilates, and the studio will have 12 of the Pilates-specific exercise machines known as Reformers. But it will also offer a range of other fitness classes.
The Greenwood site will be the fourth local Club Pilates location, joining existing sites in the Keystone area on Indianapolis' north side, as well as locations in Carmel and Fishers. Those three sites are operated by a different franchisee. 
Club Pilates opened its first club in 2007, in San Diego. The company says it now has 390 active studios and hundreds more in the works. 
—A couple of sweets spots are joining the lineup at Castleton Square Mall.
Blondie's Cookies is set to open in early November near the food court. And Aha Rolled Ice Cream is expected to open by Sept. 1 at a space near retailer The Finish Line.
Based in Greentown, Blondie's also has two other Indianapolis-area shops: One at Greenwood Park Mall, and one in the Fashion Mall at Keystone. Blondie's also has stores in Bloomington, Fort Wayne, Kokomo, Mishawaka, Muncie and in Wesley Chapel, Florida.
Rolled ice cream involves pouring a liquid on a chilled surface, where it freezes and can be rolled into shapes.
Please enable JavaScript to view this content.