The Cinemark 8, which had operated as a second-run theater since its opening on the south side of Indianapolis in 1990, has closed for renovations, with plans to reopen in December as a first-run theater with upgraded amenities.
The 24,000-square-foot, eight-screen theater at 1848 E. Stop 13 Road, just north of County Line Road and the Greenwood Park Mall, is Cinemark's only Indianapolis theater and one of four in the state, along with two in Mishawaka and one in Valparaiso.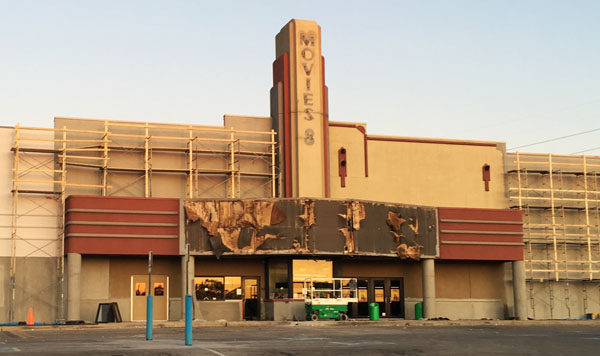 Cinemark previously operated a theater at 10455 E. Washington St. in Indianapolis but that location closed in 2014.
Sept. 26 was the last day of operations for the theater before it closed for renovations. Cinemark expects to reopen the property in early December.
Cinemark has converted many of its second-run theaters, which offer discount ticket prices as low as $1, in recent years.
"Once reopened, the theatre will show first run movies with Cinemark luxury loungers in every auditorium," Cinemark spokeswoman Jennifer Wood told IBJ via email.
The theater also will expand its concession offerings and add Pizza Hut pizza to its menu, Wood said.
Wood said the renovations at Cinemark 8 were driven by customer demand. "Our customers wanted upgraded seats, upgraded technology and they wanted to watch the newest movies," she said.
Wood was unable to provide information on the cost of the renovations.
Previously, the Cinemark 8 screened a mix of second-run movies and "Bollywood" films from India. The location will continue to screen foreign films after reopening, Wood said.
Cinemark's luxury loungers are electric-powered recliners with footrests, cup holders and heat-controlled seats.
The Plano, Texas-based Cinemark chain, which operates 341 theaters in the United States and another 205 in Central America and South America, has been adding the recliners to its U.S. properties at a rapid clip over the past several years, as have its competitors.
Cinemark began adding recliner seating to its theaters in 2014. By the end of last year, the company had installed the upgraded seating at 56% of its U.S. theaters.
AMC Entertainment Holdings began adding recliners to its theaters in 2013 and, as of the end of last year, it had upgraded the seating at 34% of its 1,006 theaters.
Regal Theatres operates 550 theaters, 30% of which have recliner seating. That percentage includes Regal's theater at Greenwood Park Mall, about a mile south of the Cinemark theater.
In other news this week:
Yujo Ramen & Boba Tea opened Sept. 20 at 9431 N. Meridian St.
The restaurant, owned by Paul Yu and Helen Zhao, serves Japanese ramen and Taiwanese boba tea. Boba tea, also called bubble tea, combines tea, milk, sugar and optional add-ins such as chewy tapioca balls.
A new Middle Eastern restaurant called Taste of Dubai opened Oct. 3 at 4672 W. 38th St.
Menu items include lamb, chicken, kababs, falafel and other items. The owners are brothers Murad Al-Jazzazy and Mohamad Al-Jazzazy.
State of Grace, a women's boutique, opened this month at 6243 N. College Ave. in Broad Ripple.
The location was formerly occupied by Got Sole? Boutique, a sneakers and streetwear shop that closed in August after a 12-year run.
The Broad Ripple store is the second location for State of Grace, which also has a store at 11679 Olio Road in Fishers.
Which Wich Superior Sandwiches has reopened its 1430 W. Carmel Drive location in Carmel after a brief closure.
The restaurant had been closed for about a month when Scott Crepeau, a former owner at the location, bought it back from the person he had sold it to two years ago. Crepeau and his general manager, Casey Raxlin, reopened the location on Monday.
Marco's Pizza has opened a new location at 7119 Whitestown Parkway in Whitestown. The franchised restaurant is owned by members of the Khangura family, whose oldest son, Jay, serves as store manager.
Based in Toledo, Ohio, Marco's was founded in 1978 and now has more than 900 locations, including more than a dozen in the Indianapolis area.
Bovaconti Coffee opened for business Tuesday at 1042 Virginia Ave. in Fountain Square, in the 1,300-square-foot spot formerly occupied by Bovaconti Jewelers.
The partners in the business are Justin Jones, who also owns the Georgia Street Grind coffee shop in downtown Indianapolis, and Minda Balcius, a developer in Fountain Square. IBJ first reported on this project in January.
Please enable JavaScript to view this content.