Broken bones are a big business: Every year, more than 6 million bones are broken in the United States, due to falls, car accidents, sports injuries, overuse, low bone density and other causes.
But nature is slow in repairing broken bones.The average recovery time for a young, healthy adult with a broken arm is six to eight weeks. An elderly person with a fractured hip can take six months to a year to recover.
Now a Purdue University-based startup wants to speed up the time of bone healing.
Novosteo Inc. has developed an injectable bone-healing drug it thinks can cut the healing time by 50 percent, while reducing side effects. The company says its drug has stimulated bone growth and quickly repaired fractures in animal studies. The company hopes to begin human clinical trials within a year.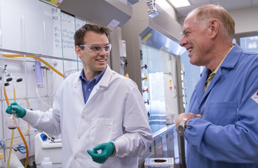 Dr. Stewart Low (left) and Dr. Philip Low. (Photo courtesy of Purdue University)
"A lot of people would rather have a cast on their legs for six weeks than 12 weeks," Philip Low, a Purdue chemistry professor and chief scientific officer of Novosteo, said Monday. "Same for people with jaw fractures, who would normally have to be wired shut for four to six months; we want to cut that time in half."
Philip Low is working with his son, Stewart Low, a visiting scholar at Purdue who earned his doctorate in bio-engineering from the University of Utah in 2015.
While at Utah, Stewart Low developed a theory that certain molecules known for binding strongly to bone could be used to repair fractures. He worked on methods for getting those drugs to work on bone fractures.
"We had taken several drugs and engineered them to make them very specific to bone fractures," Stewart Low said.
Those drugs include several already on the market for other bone diseases, such as Eli Lilly's Forteo and Radius Healths' Tymlos, both for osteoporosis. He has identified more than 50 drugs that can be modified to treat bone fractures.
The young company has linked those drugs to a homing molecule that is able to carry them selectively to the fracture surface.
"By concentrating them on the fracture surface, we concentrate all the natural healing power on these bone-growth stimulating agents to facilitate repair of the fracture," Philip Low said.
The drug goes directly to the fracture and attaches itself to the bone without the need for invasive surgery.
Moving a discovery from the lab to the marketplace is nothing new for Philip Low. Over the years, he has produced research on cancer, bone formation, connective tissue, malaria and other health areas that has generated five startups.
The first, Endocyte Inc., which sought to develop smart drugs for cancer, was bought last year by Swiss pharmaceutical giant Novartis AG for $2.1 billion, although Endocyte's primary asset was a compound it had recently bought from a German chemical company, not a discovery of Low's.
Through other companies, Low also is developing an infrared dye to help surgeons spot tumors in patients (On Target Laboratories) and therapies to treat the thickening and scarring of connective tissue (HuLow). Another start-up, yet to be named, is developing treatments for malaria.
"My dad obviously has phenomenal amounts of experience starting biotech companies and getting drugs into trials," said Stewart Low, president of Novosteo. "He's more or less taught me how to think about science my entire life. And now we get to join our minds and come up with some really fun ideas."
The company is looking at using the drug for dental implants, head and facial fractures, hip and knee replacements and complicated or complex fractures.
Last month, the Orthopaedic Research Society awarded Novosteo a first-place award for its work in bone repair.
Novosteo received a $1.7 million grant from the National Institutes of Health last year, which will be used to prepare the drug for early-stage clinical trials.
The company, based in Purdue's Discovery Park District in West Lafayette, also won money from the Foundry Investment Fund and Elevate Purdue Foundry Fund. The technology is licensed through the Purdue Research Foundation Office of Technology Commercialization.
Please enable JavaScript to view this content.