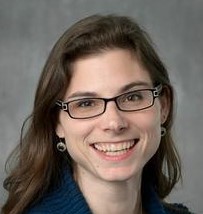 Two Purdue University professors are working to develop portable devices that could tell people in their own homes whether they have contracted the novel coronavirus.
The two technologies are different, but the goal of both is to provide a result within 40 minutes. The researchers say they are working with manufacturers to develop the products, which they hope will retail for $5 or less.
They are racing to get the products approved within a few months under a provision of federal law that allows the U.S. Food and Drug Administration to allow unapproved medical products in an emergency to diagnose, treat, or prevent serious or life-threatening diseases or conditions.
The Purdue researchers are Jacqueline Linnes, assistant professor of biomedical engineering; and Mohit Verma, assistant professor of agricultural and biological engineering. They say they began their research long before the current pandemic, and are building on earlier platforms.
Linnes specializes in "point-of-care diagnostics"—meaning devices that doctors, nurses or patients can use without the need to send out test strips or blood samples to outside labs. She has focused on human health, tackling such challenges as HIV and MERS.
Verma has concentrated on animal health, targeting such burdens as bovine respiratory disease, and says he is translating those platforms and assays to detect the novel coronavirus.
The two say they have been sharing test chemistries, design specifications and equipment needed to get these tests up and running as fast as possible.
They say their devices are hand-held, meaning they are smaller even than the much-touted Abbott Laboratories testing device, which is about the size of a toaster and can deliver a positive result in as little as five minutes and a negative result in 13 minutes. The Abbott device was rolled out last month under the FDA's emergency-use authorization.
"The Abbott devices require office space and equipment, but ours is designed to be carried around, and even taken out into the community," Linnes said.
She added they are also small enough to fit into a medicine cabinet. Biosensor platforms that work somewhat like a pregnancy test. Users would apply a sample (likely from a throat or nose swab) to a microfluidic paper-based analytical device known as a micro pad.
The test would give them a binary result—like the line-or-no-line with a pregnancy test—indicating whether it detected the novel coronavirus.
Verma's product uses nucleic-acid-based assays that would change color in the presence of the virus.
"If you think about every new virus, they have a different sequence of their DNA or RNA," Verma said. "And that changes what you're targeting to be able to detect them. So for that different sequence, you need to build a new assay."
Traditionally, those types of assays have been limited to a centralized laboratory because they require expertise and sophisticated equipment, he said.
Verma said he is working with PortaScience, a New Jersey-based laboratory to develop and scale up the product. Raytheon BBN Technologies of Massachusetts is commercializing the product he said. The goal is to roll out hundreds of thousands within a few months. The product has yet be named.
Linnes said she is also working with commercial and manufacturing partners, but declined to name them or her product, saying the legal agreements have yet to be finalized.
Please enable JavaScript to view this content.