One of the challenges for Broadway-launched talent transitioning to concert halls is finding one's own voice. With intimate performances in cabarets and concert halls—and without the crutch of playwright-created characters—these singers have to go beyond just their vocal talents. Personality—created or natural—plays a significant role.
A few weeks ago, I wrote of the way Liza Minelli managed to conquer Hilbert Circle Theatre even with a failing voice. Contrast her with Dionne Warwick, whose personality didn't carry her through the drop off in her singing quality at the Palladium opening. Or with Bebe Neuwirth, who came across as wanting to be somewhere else—anywhere—when she joined the ISO for a concert a few seasons back.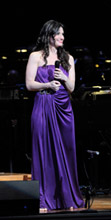 Cabaret legend Andrea Marcovicci, in her set at the Cabaret at the Columbia club in February, was somewhere in between Warwick and Minelli. A staple at the Algonquin Room in New York, Marcovicci didn't come to the stage with as much audience goodwill as Minelli does, but she quickly managed to convert the crowd through humor, fun back stories for her songs, a dash of personal insight and, above all, a clear love of the Great American Songbook tunes she sang. Remarkable, truly, that she was able to pull this off with a voice that consistently went places it shouldn't.
In what has been a remarkable season to see and hear female vocalists in town, Idina Menzel joined the Indianapolis Symphony Orchestra for an intermission-free program last night. When you're best known for playing other people—in Idina Menzel's case, a green witch with acceptance issues—I wondered how clearly a real person would emerge. Large orchestras can sometimes drain the spontaneity from even the savviest performers.
Menzel made her Broadway name in the original casts of "Rent" and "Wicked" and built her fan base further with a recurring role on "Glee." While she may not be a household name, within show choir circles, she's about as big as they come right now. And these fans—many in their teens—packed Hilbert Circle Theatre.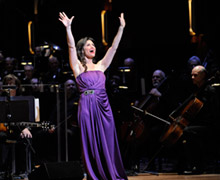 Opening with a song from the less-familiar off-Broadway show "The Wild Party," Menzel deftly mixed songs associated with her ("I'm Not That Girl," "For Good," and "Defying Gravity" from "Wicked;" "Poker Face," which she performed on "Glee") with others, sometimes tender (a sweet "Look to the Rainbow"), sometimes loopy (a take on Louie Prima's "I Feel So Smoochey," and sometimes her own ("Gorgeous").
Good stories led to good songs, with Menzel prefacing "Love for Sale" with the tale of how a music teacher helped her see through the surface to the depth of sadness in Cole Porter's lyric. A very funny anecdote where she shared a table with Barbra Streisand (and consumed tequila shots after being unsure if the legend insulted or complimented her) moved smoothly into "Funny Girl" and "Don't Rain on My Parade."
She generously invited the glee club that had presented a lobby pre-show to join her on stage for "Seasons of Love"—the spontaneity of the moment clear because only three of the group's members actually had tickets to the show. After a Spinal Tap-like effort to get to the stage, Menzel didn't try to upstage them, instead staying off-mic as just one part of a quartet. A lovely encore take on the "Annie" staple "Tomorrow"—sung for her mother, who pushed the song on her—capped things nicely.
There was less interplay with the orchestra than there was with the recent pops program with Ashley Brown (B'way's "Mary Poppin"), but Menzel seemed to have a genuine, humble appreciation for the musician's talents and their willingness to play back-up band for her. Throughout, she presented as a woman with a deep appreciation of how talent and good breaks combine to make a star. And that being able to sing songs you love in front of an audience that loves back is a gift.
Personality? Absolutely. Beyond her vocal talents, Menzel came across as the person you'd want to drink with at an otherwise dull party and the coolest new mom at the playgroup mashed together like a good "Glee" medley.
Your thoughts?
Please enable JavaScript to view this content.