"Billy Elliot"  tells the story of a kid trying to artistically transcend the limitations that seem to be imposed by his surroundings. And, interestingly, the show faces those same struggles.
When "Billy Elliot" soars—and it does every time the title character finds that he can communicate better through dancing than words—the show comes alive. When it focuses redundantly and for too long on Billy's environment (as it does in the too-long set-up) and when it offers condescending schtick that would be better suited for "Rock of Ages," it falters.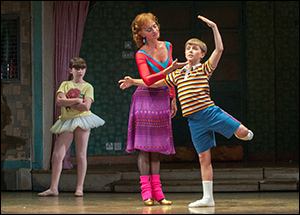 In case you missed the film the play is based on, the story concerns a young boy whose town is caught up in the British coal miners' strike of 1984. In the midst of the tumult, Billy falls in with a seen-better-days dance teacher and finds he has the talent—and the drive—to transcend his surroundings.
My thoughts on seeing the tour at the Murat (where it plays through Nov. 18) aren't dramatically different then they were when I saw the show in Chicago. A boy who wants to dance may seem like ideal subject for a musical. But dancing miners and cops come across as wildly out of place padding in a show so anchored in reality. They undermine Billy's specialness in an effort to provide enough musical numbers.
For the most part, the show creatively works around that seeming contradiction by using the ensemble in abstract ways. They accent, for instance, the memory song of Billy's grandma (whose number provides the first sign of life in the show) and present the strike-breaking opposition in Billy's intense "Angry Dance." And a future balletic Billy is just the right touch in a stunning "Swan Lake" duo dance.
But "Billy" sometimes falters is when it doesn't trust the truth of its characters. A sweet scene with Billy's cross-dressing pal doesn't need to resort to a fantasy dance with dresses on parade. And a second act opener, set during a holiday pageant, undermines the reality of the strikers' struggle: Shouldn't the miners have spent money on, oh, food instead of a massive Margaret Thatcher puppet? And what's with the cheap-laugh anachronistic dance moves early on?
The music—by Elton John with lyrics by the film's screenwriter, Lee Hall—doesn't have that "gotta listen again" quality that turns a score into a classic independent of the show itself. The exception is "Electricity," a beautiful song that seems to come directly from Billy's heart and brain.
All caveats aside, I can't say enough about Noah Parets, who played Billy on opening night (multiple kids rotate in the part). He may not be as graceful as others who have taken on the brutally difficult role, but he's got the acting chops, never letting us forget his working class core. In hindsight, his most impressive work comes early in the show, while trying to keep up with the girls in his first dance class. Once we see what he is capable of later in the show, his ability to convincingly play that early awkwardness, frustration and drive becomes even more impressive. I believed him, even when I didn't believe the show.
Your thoughts?
Please enable JavaScript to view this content.