Construction fencing is up and trees are coming down in front of Fishers Town Hall in preparation for next month's groundbreaking on The Depot at Nickel Plate, a mixed-use project that officials hope will launch a wave of downtown redevelopment.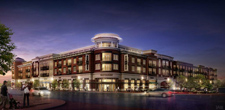 A partnership between the town and Flaherty & Collins Properties, the $42 million project includes 242 luxury apartments, more than 15,000 square feet of retail space and a 430-space parking garage.
Residents should be able to move in beginning in November 2014.
"We are moving forward without any hiccups," Community Development Director Tom Dickey told members of the town council at a work session Monday night.
He also unveiled a new architectural rendering of the completed project, showing off a rooftop deck overlooking 116th Street that will be accessible to occupants of a two-story residential unit above the retail space. (Click here for a larger view.)
The mostly one- and two-bedroom apartments will average 934 square feet in size and are expected to rent for $949-$1,850, according to promotional material from the Indianapolis-based developer.
No tenants have been announced for the commercial space, but it's no secret that town leaders are clamoring for a "destination" restaurant to draw residents downtown.
It's all part of a broader strategy to build a more vibrant community. Fishers has assembled almost a dozen properties east of its municipal complex to encourage additional development, and town leaders say deals are brewing.
Work on The Depot's parking garage is scheduled to start Oct. 14, and wood framing of the retail area along 116th Street should begin in January. The first phase of apartments is expected to be done in November 2014, with the remainder online by April.
A total of 37 trees were removed for the project, Dickey said, but plans call for 80 to be planted on the site.
Please enable JavaScript to view this content.