One of Fishers' newest employers is also one of its largest.
Delaware-based Navient Corp., which spun off from student-loan giant Sallie Mae on April 30, unveiled new signage this week atop its 478,000-square-foot building overlooking Interstate 69 south of 116th Street.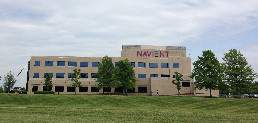 Navient signs are going up in Fishers this week. (IBJ photo/Andrea Muirragui Davis)
The loan-servicing company has more than 1,400 workers at 11100 USA Parkway (named for Sallie Mae predecessor USA Group) and another 900 or so at offices in Indianapolis and Muncie. The Fishers location opened 23 years ago.
"Our name is new, but our deep roots in the Indianapolis community are not," local Navient executive Jon Kroehler said in a prepared statement.
Navient said it provides customer service to 12 million student-loan customers and handles asset recovery for more than 1,500 clients in government and higher education.
The publicly traded company plans to fill about 100 open positions in Indiana by the end of this year, according to the news release distributed Monday.
"Navient makes a significant contribution to our state as an employer and member of our local community," Fishers Town Manager Scott Fadness said in the release. "We look forward to increased opportunities for residents to live, work and play in Fishers."
Please enable JavaScript to view this content.