The city of Westfield is attributing $92 million worth of developments already built or under construction to its Grand Park Sports Campus.
In addition to the $92 million in projects already built or under construction, the city said in a media release Thursday that the 400-acre sports campus has had a hand in sparking $491 million in projects still in the planning stage or that have been approved but have not started construction.
City officials did not specify all of the projects corresponding to those figures or explain its criteria for deciding when the campus was "a motivating force" behind a project. Asked for more detail, city officials didn't supply supporting materials by IBJ deadline.
The campus opened on June 22, 2014, with 31 outdoor sport fields. A 370,000-square-foot events center and a fieldhouse for indoor basketball and volleyball were added in 2016. Many of the new commercial real estate projects in Westfield sparked by the campus are hospitality-focused businesses serving visitors to the park, the city said.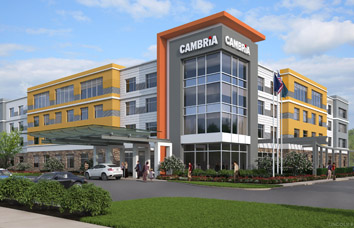 The city's media release did mention two projects whose development could be attributed to the park: the $17 million Cambria Suites currently under construction (see accompanying rendering), and Noble Roman's Craft Pizza & Pub, which opened earlier this year.
"When choosing a location for our very first Noble Roman's Craft Pizza & Pub, we wanted a premier site and Westfield was tops on our list," Scott Mobley, president and CEO of Noble Roman's, said in a prepared statement. "Grand Park made this an easy decision. We knew they would be drawing great crowds that were a perfect fit for what we have to offer."
According to IBJ research, other projects near Grand Park that are either finished or under construction include:
Hampton Inn, $12.2 million  
Riverview Health hospital, $50 million
Monon Marketplace (Stacked Pickle, Titus Bakery, OrthoIndy Urgent Care and Physical Therapy), unknown cost
LOR Corp.'s retail development on Tournament Trail (Subway, Big Red Liquors, Bub's Burgers), unknown cost
The projects with known costs add up to $79.2 million.
Other upcoming developments include Steve Henke's Chatham Commons near U.S. 31 and 191st Street, which is expected to include two Marriott-branded hotels totaling $40 million. The project would also include restaurants, a grocery store and pharmacy. A total figure has not been released.
Henke is also the developer for the proposed 220-acre Grand Park Village. The $225 million mixed-use project could include shops, restaurants, entertainment venues and multi-family housing surrounding a lake with a boardwalk. Progress has been slower than expected, but the Cambria Suites is located within the property and is expected to spur other investments.
A large housing development designed for residents ages 55 and older is also in the works on property just north of Grand Park. The 265-acre neighborhood known as Osborne Trails could include single-family homes, attached residential units and some commercial uses. A total cost has not been given.
According to a study from Phoenix-based Applied Economics that the city released Thursday, Grand Park had a total economic impact of nearly $470 million from 2014 to 2016. The annual economic impact is expected to increase 4 percent this year to $259 million.
The study noted that the park is "approaching full operational levels, and so future annual increases are not projected to be as large."
Please enable JavaScript to view this content.