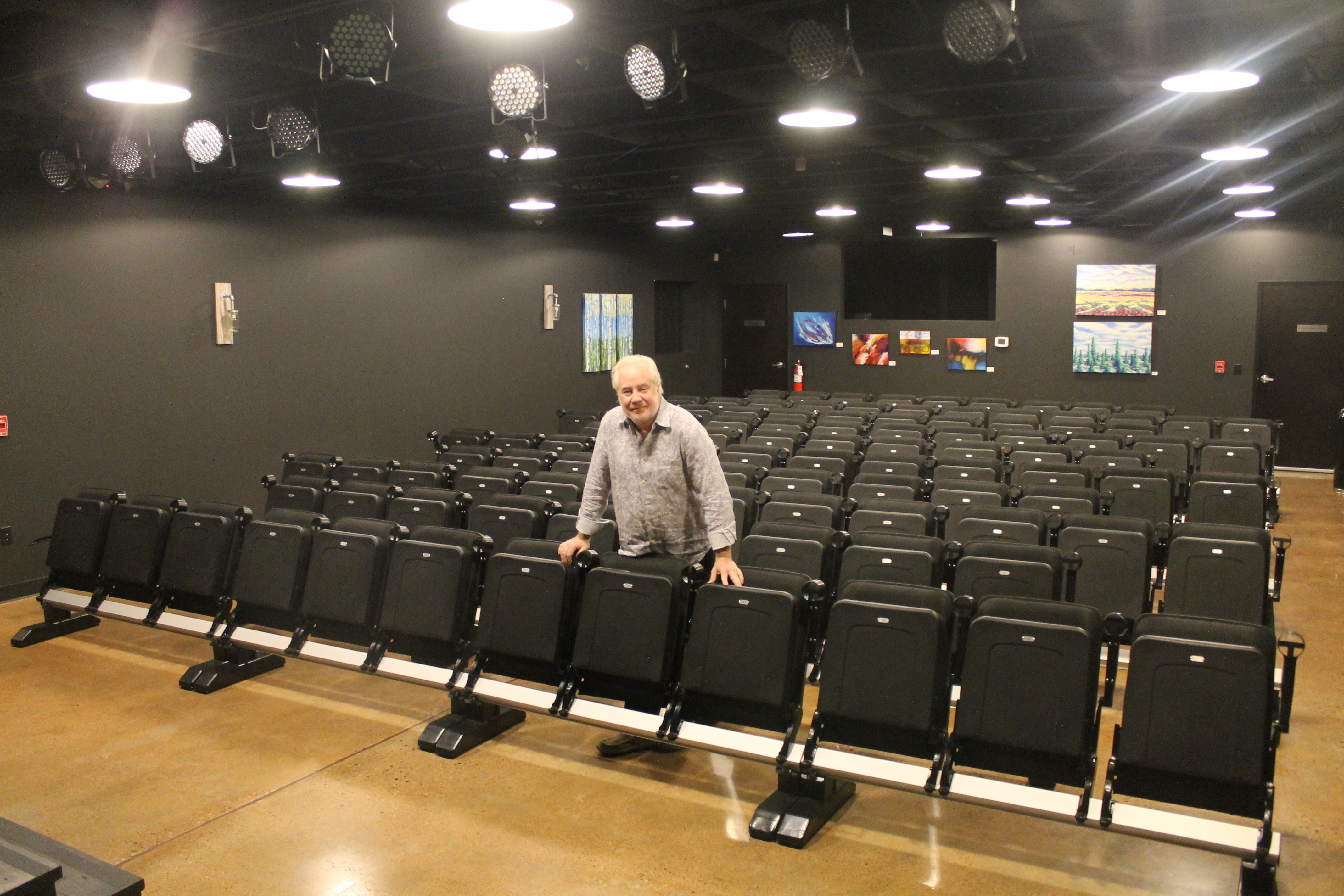 A new venue looking to become an "off-off-Broadway" theater destination in Carmel has taken over the space previously occupied by The Warehouse.
Known as The Cat, the theater recently opened in the Arts & Design District at 254 First Ave. SW, where the former live music venue abruptly closed earlier this year.
Will Wood, founding artistic director of The Cat (see first image), said he never intended to become a venue operator and was only looking for space to rent for about a month to produce his upcoming August production of Cole Porter's "You Never Know."
But Wood signed a three-year lease after one visit and moved into the space in February.
The Cat opened earlier this month. Its first show, a cabaret performance of "Side by Side by Sondheim" presented by the Carmel Theatre Company, just finished a two-week residency in the 150-seat theater.
Wood said crowds were modest, but friendly and supportive of the new venue. Along with his wife, Deborah, Wood said his goal is to create an accessible space for all types of shows, from cabaret and comedy to singer-songwriter performances and music recitals.
He said he expects to lose money during the first two years, but he's OK with that.
"We hope to really create a theatrical legacy here in Carmel of a place where anybody can go and put on a show," Wood said.
John Clair, chairman of the board for the Carmel Theatre Company, said the size, location and timing of The Cat's opening were perfect for the "Side by Side by Sondheim" show.
"The idea of having this space for theater in the Carmel Arts & Design District just fit," Clair said. "When The Cat became available, we snapped it up."
He said the seating flexibility—the 10 rows of seats are not nailed to the floor and can be adjusted for crowd size—was a big draw. The "Side by Side by Sondheim" performances utilized just 50 seats for a more intimate setting.
The Cat is named in part for Wood's love of cats and for his own Carmel Apprentice Theatre company.
Although it is much smaller than the nearby Palladium and Booth Tarkington Civic Theatre, Wood plans to offer residencies for several local theater companies, including three of his own, plus the new Improbable Fiction Theater Company and the Carmel Theatre Company.
The Cat has more than 15 events planned through the end of the year, and Wood said he has received requests from a variety of acts, including singer-songwriters, cabaret performers, and classes looking for recital space. He said he has only turned down one request and wants to remain accessible to all types of shows.
"We are not tied into being the biggest or the best," Wood said. "The furnishings here are the best, but the acts that come here, as long as they can work out an arrangement with us, we're thrilled to have them."
The 1,700-square-foot facility housed a machine shop for 60 years and then became home to The Warehouse in 2014 when vocal coach Heather Ramsey leased the space.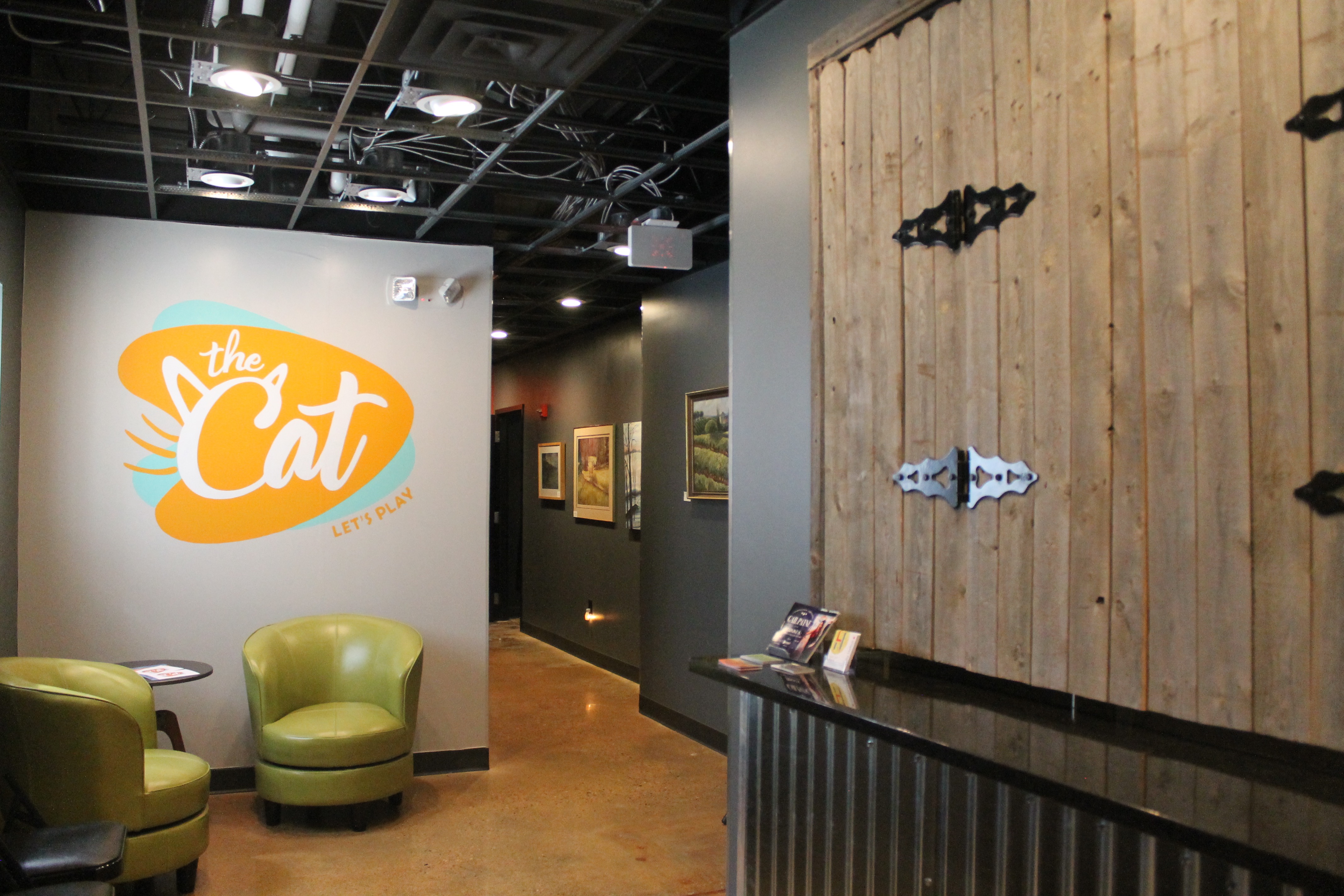 National acts such as Howie Day, John Waite and Lou Gramm visited the venue. It unexpectedly closed in January. Patrons received an email stating that it would immediately cease operation "due to circumstances beyond our control."
While still in operation, Ramsey spent $60,000 renovating the facility to add a state-of-the-art sound system, acoustic wall panels, a taller stage and a merchandise booth.
According to a lawsuit recently settled in Hamilton County Superior Court, Ramsey hadn't paid for all of the work.
Frank Sumner, owner of Preferred Seating, sold 150 theater-style seats to Ramsey in 2016 and claimed that Ramsey never paid his company in full.
Preferred Seating filed a lawsuit against Ramsey in May 2016, and in March a judge ordered her to pay $9,933. Sumner said his company received its payment 30 days ago.
The seats remain at the theater, and some of the previous renovations allowed Wood to open quickly. He said he only had to make a few updates to the venue, including building a wall behind stage for performance use, providing his own sound and lighting and adding personal touches, like cat art on everything from the concession stand signs to the bathrooms.
Wood also partnered with the CCA Gallery in downtown Carmel to display about 40 pieces of art, all of which are for sale, throughout the theater.
"It's intimate," Wood said. "We were very fortunate that we didn't have to build much. That's how we could get started as early as the first weekend in May."
Please enable JavaScript to view this content.