The city of Westfield's 10-year contract to host the Indianapolis Colts' training camp at Grand Park Sports Campus beginning in July 2018 could mean a lot for the northern suburb, but the city also has its fair share of work to do in order to reap the benefits.
According to the contract, the city will receive a total of $653,000 from the Colts—a one-time payment of $123,000 plus an additional $53,000 per year. The city can also charge for and keep the revenue from parking and concessions at Grand Park.
The contract requires the city to provide an audit of revenue and direct expenses after the 2019 training camp and every year after that. If the city's net revenue is less than $100,000, the Colts will pay the difference.
That means a guaranteed $1 million in net revenue over the 10-year period.
But the city is also on the hook for providing a plethora of other items and services outlined in a roughly three-page checklist attached to the contract.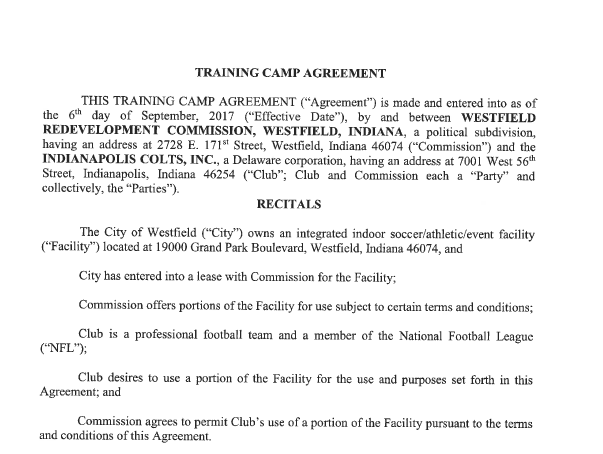 (Click image to the right to see contract and checklist.)
The contract gives the Colts full and exclusive access to the indoor soccer complex known as the Grand Park Events Center, except for three office suites that may potentially be excluded. But the contract says if those three areas are unavailable, then the city—at its own expense—would have to construct comparable meeting spaces within the events center. 
The three potentially excluded areas are currently occupied by NinjaZone, the Indiana Soccer Association and Indiana Sports Properties. All of the leases continue through at least 2021.
An equipment room, weight and conditioning room and training room would also be added to the center during the camp.
The area in the events center currently operated by Methodist Sports Medicine would be considered the training room, but should Methodist Sports Medicine close its office there, the city would have to look for an alternative, according to the contract.
And while the Colts are responsible for an agreement with the nearby 152-room Cambria Hotel & Suites, the contract stipulates that at least 200 total beds "must be reasonably adjacent to the practice fields and the events center."
If such lodging isn't available in any given year, the Colts can terminate the agreement as long as it does so before April 14 of the year it wants to end the deal.
"… however, [the Colts] will negotiate in good faith for such housing and provide [the city] with reasonable advance notice and an opportunity to find acceptable replacement housing for [the Colts] prior to terminating this agreement," the contract reads.
Here's a breakdown of some of the other items each entity is responsible for providing.
According to the contract, Westfield is on the hook for the following:
Goal post sleeves
Electricity, secure high-speed internet connection and water
Painting the fields at the Colts' direction
Maintenance of office equipment, including desks, tables, chairs, cabinets and trash cans
Daily janitorial and housekeeping services for locker rooms and training rooms
Air conditioned locker room with minimum of 90 player lockers (each with chair or stool that can support 300-pound men); space for shoes, pads and other football equipment; at least 25 showers (15 of which with shower heads at least 7-feet high); toilets; sinks; mirrors; and hot water
Coaches locker room with 25 lockers and chairs
Meeting space with seating for 130 players set up like a classroom (meaning two chairs per table)
Meeting space with seating for 55 players and 3-5 coaches set up like a classroom
Nine other meeting spaces arranged as a classroom to accommodate anywhere from 9-20 players and coaches (ranging in size from 250 square feet to 600 square feet)
Paying the costs to convert a field in the events center into a NFL-quality weight and conditioning room (reflooring and build out)
"Reasonable security" for crowd control during practices, scrimmages and in the locker and equipment rooms.
Having a full-time events manager on staff (at least initially will be LST Marketing)
What the Colts are on the hook for:
Installation and removal of eight NFL regulation goal posts
Office equipment that goes beyond what the city provides, including marker boards, projectors, fax machines, phones
Paying to install, maintain and remove weight and conditioning equipment
Hiring a third-party food provider and catering staff
Four industrial-sized washers and four industrial-sized dryers
Five fans for drying out player uniforms and equipment
Cost to repair any damage that occurs during camp
What they're both responsible for:
Equally sharing the cost to install 2,000 additional temporary bleacher seats to each of two additional fields (and this could be expanded if deemed necessary at the end of the first year of camp)
Colts will decide, after consulting with the city, the sales prices and brands for all food and beverage concessions offered, and what specific items will be sold and the official suppliers.
Copy machines
Please enable JavaScript to view this content.