A fast-growing manufacturer of automotive lubricants is investing $4.6 million to increase production at its Lebanon headquarters.
D-A Lubricant Co. Inc., which relocated from Indianapolis to the Lebanon Business Park in 2011, plans to install another production line in its 250,000-square-foot facility.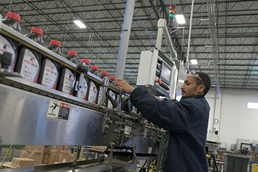 About 70 employees work at D-A Lubricants' 250,000-square-foot, 23-acre Lebanon plant. (IBJ photo/Eric Learned)
On Monday, the Lebanon City Council approved a three-year personal property tax abatement on the new equipment that is expected to save D-A close to $70,000.
"D-A Lubricant is a major sponsor of many racing-related events, and we are proud to have a local company represent Boone County on a national and international stage," Boone County Economic Development Corp. Executive Director Molly Whitehead said in a prepared statement. "Automotive manufacturers are target industries for Boone County, and we look forward to attracting more fast-growing companies like D-A Lubricant to our community."
In 2016, D-A signed a three-year, $5.2 million sponsorship deal with Indianapolis Motor Speedway, with its PennGrade Motor Oil brand becoming the first-ever presenting sponsor of the Indianapolis 500.
The company has 140 employees nationwide, and about 70 of those are in Lebanon. Another 15 jobs are planned for the headquarters, but those were tied to an incentives package the company received in 2015.
At that time, D-A said it would add 25 jobs as it invested $3.9 million to add production of Bradford, Pennsylvania-based Brad Penn Lubricants to its headquarters.
No additional jobs are promised in the tax abatement request the Lebanon City Council approved Monday, but it's likely not the last expansion at D-A's headquarters.
D-A owner Mike Protogere told IBJ in April that he plans to expand the Lebanon plant, which sits on a 23-acre site, by 150,000 square feet within two years.
Since 2002, when Protogere bought the company from England-based Farnell Electronics, D-A has been growing at a fast pace. Its sales and profit have increased 500-plus percent since 2002, and its staff has nearly doubled.
Protogere expects sales to continue growing 20 percent per year.
Please enable JavaScript to view this content.