The city of Carmel's German-themed holiday market opens Saturday, and organizers already are thinking about changes that could be made after its inaugural year.
The Christkindlmarkt is part of the city's $5 million project to transform the Center Green in front of the Palladium into an ice rink and Christmas market. It is scheduled to run from this Saturday to Dec. 24, but will be closed on Nov. 23 for Thanksgiving.
In June, the city created a not-for-profit called Carmel Christkindlmarkt to oversee the market and hired Maria Murphy to be the CEO of the organization. The city hired Carmel Ice Skadium to operate the ice skating rink (see rendering below).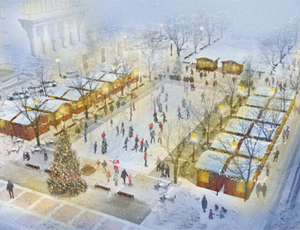 The Carmel City Council gave the Christkindlmarkt a total of $420,000 to fund the first year of operations. Initially, organizers expected the main sources of revenue to be sales of holiday merchandise at 40 huts run by Carmel Christkindlmarkt, a share of the revenue from third-party sales of food and beverages, and the money from the city. 
A budget prepared in June for the first year of the event expected $737,500 in revenue and $541,625 in expenses.
But Murphy, who previously worked for Lake City Bank, said the first year of operations is already going differently than expected, so those figures are misleading.
For example, she didn't expect any sponsorships, but several have been secured. She also didn't anticipate attracting any independent vendors for the 40 huts at the market. Potential roadblocks for independent vendors included being required to sell either products from Germany or German-inspired items, and to be open any time the market is open.
But 18 of the huts (shown below on Monday) will be operated by outside businesses. Some of the vendors aren't exactly German, like The Walking Waffle Co., but Murphy said waffles are something you would see at a German holiday market, which means they still fit with the theme.
Out of the remaining 22 huts, three will be used for ice rink management and 19 will be operated by Carmel Christkindlmarkt and sell items Murphy purchased during a trip to Germany in June.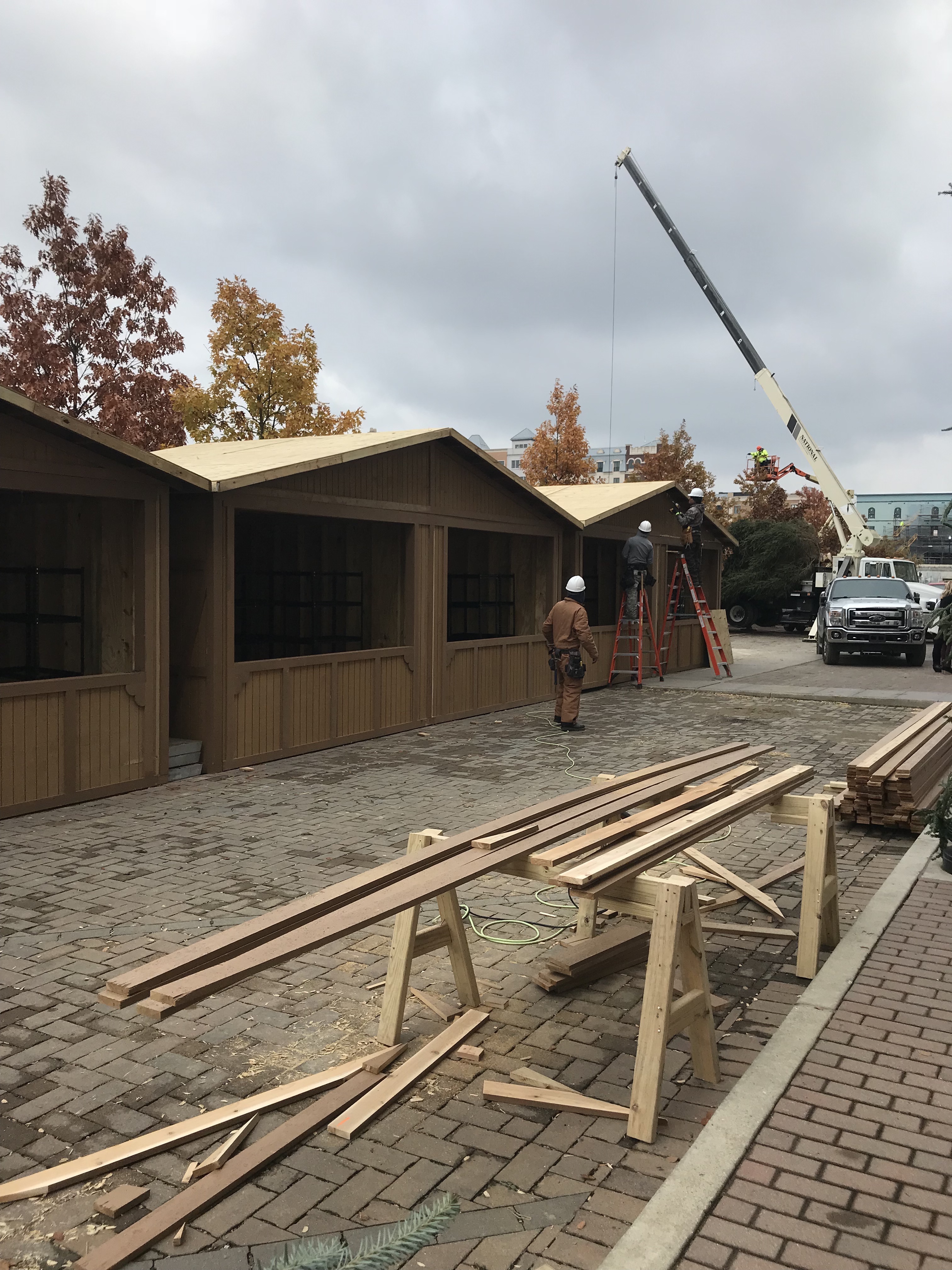 The not-for-profit is using Express Employment Professionals to help hire about 35 temporary employees to manage the 19 huts. The employees will be trained on the items they're selling, so they can discuss the history and origins of the German-made products.
Murphy said she didn't know the total cost of purchasing the German goods because final shipping costs had not been finalized. It's also possible more goods need to be purchased, depending on how sales go.
"It's a significant amount of money," Murphy said. "It's a moving number depending on the shipping and additional products we discover we need."
The not-for-profit's board declined to say how much has been spent to-date on purchasing items from Germany or what the expected return on investment could be if all the items are sold.
But Murphy said she's already considering changes to the ratio of in-house huts to those run by outside vendors, depending on how sales shake out in the first year. She wants to ensure the not-for-profit is getting a good return on the items it's selling and finding the right balance of vendors while ensuring a wide range of authentic German products is still available.
"Do we need to keep some of those in the mix to get some of the high-end outside product that a vendor wouldn't invest in?" Murphy said. "We don't want this to end up being run of the mill."
The outside vendors are not charged any up-front rental costs, and Christkindlmarkt covers the cost of electricity, heat and other infrastructure-related expenses. But the not-for-profit collects 20 percent of sales from all outside vendors.
That arrangement could change next year too, according to Murphy.
"It's not about making a profit, but being able to fund it," Murphy said. "I want to be self-sustainable in three years."
The June budget estimated $285,500 in revenue from the not-for-profit selling its items, and $32,000 in revenue from third-party food and beverage sales. It did not account for any revenue from retail sales from other vendors, because at the time Murphy didn't expect to attract any.
There's also a possibility that more huts will be added next year. Murphy said she still gets requests from businesses about having a presence at the market.
Hours could change as well. This year, the market will be open 4 p.m. to 9 p.m. Wednesdays and Thursdays, 1 p.m. to 10 p.m. Fridays and Saturdays, and 1 p.m. to 9 p.m. Sundays.
"If no one is coming on Wednesdays, then we might just close on Wednesdays," Murphy said.
Please enable JavaScript to view this content.