The city of Fishers is trying to prevent three vacant (or soon-to-be-vacant) properties that formerly housed grocery stores from being redeveloped without city oversight.
The city is proposing the establishment of an overlay zone on the properties where two former Marsh Supermarkets and one existing Kroger are located that would limit new uses only to grocery stores.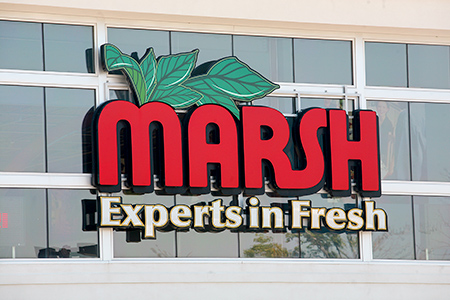 The overlay zone would apply to the former Marsh stores at 8766 E. 96th St. and 12520 E. 116th St. and the Kroger at 7272 Fishers Crossing Drive. Kroger is planning to close that store when the new one it is constructing opens across the street on the northeast corner of Allisonville Road and 116th Street.
"As these sites transition in use, there is a growing concern that they may be used for a variety of unwanted uses before the new commercial standards and uses are adopted," the staff report sent to the Fishers City Council reads.
The overlay zone would only allow grocery use in any building larger than 5,000 square feet and would apply to vacant or occupied grocery stores within the existing retail centers. The zone would not apply to other retail buildings, often called "B shops" within a retail development.
"This gives us the opportunity to work with those property owners for any redevelopment there," Tony Bagato, director of planning and zoning for Fishers, said at the city council's Oct. 16 meeting when the amendment to add the overlay zone was introduced.
The Fishers Plan Commission approved the overlay zone at its meeting Tuesday. The proposal will return to council on Dec. 18.
It's a similar approach to when the city restricted retail development along the Interstate 69 corridor in 2016 to prevent a flood of retail following Ikea's entrance into the market.
The city initially approved a temporary ordinance to give officials more time to determine the long-term plan for that area.
The temporary ordinance required any new developments in that area to receive approval from the City Council before moving forward. The city later approved permanent zoning that allows office use and a limited amount of retail.
Council member Pete Peterson said the overlay zone for the grocery stores essentially has the same effect—it makes sure the council sees any proposal before it can move forward.
"I think that's a really good strategy in order to protect those centers," Peterson said at the Oct. 16 meeting. "I don't want to take property rights away from an owner, but I want to make sure that we're certainly doing everything we can to protect it."
Please enable JavaScript to view this content.