The first tenant in Carmel's Midtown development has moved in.
Allied Solutions LLC, a company that provides insurance, finance and marketing services to financial institutions across the country, actually moved into its new five-story headquarters building at the end of October, but the official grand opening is scheduled for Tuesday.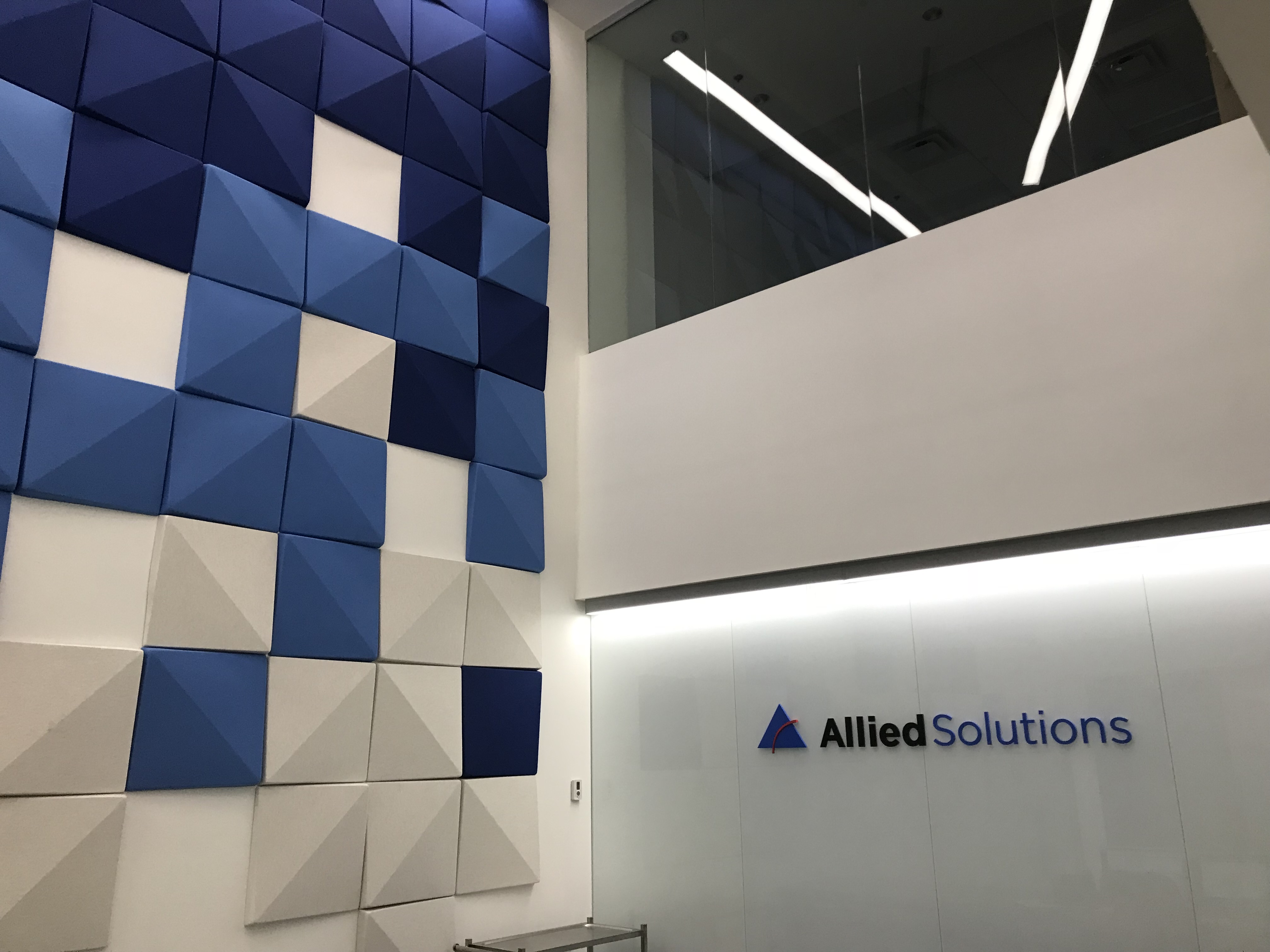 "We're really just thrilled to be here. We see it as a unique opportunity for our employees and the city to support the kickoff of a large development like this," said Brian Urbanski, the company's chief financial officer and executive vice president of corporate services. "We're proud of it, and we think our employees are really going to enjoy it."
Allied Solutions, which had previously been located in Carmel near City Center Drive and Pennsylvania Street, announced plans for the new $33 million office in January 2016.
The company occupies four of the five floors of the 135,000-square-foot building at 350 Veterans Way and is leasing the space from Ambrose Property Group for 13 years.
The new headquarters has allowed previously fragmented departments to be located together again, and will provide room for the company's anticipated growth.
When Allied Solutions made the announcement to move to Midtown, it committed to adding up to 600 employees by the end of 2025. The company has about 440 employees now.
The new office features smaller and fewer offices for managers, and was designed to give nearly every employee a view of outside, said Gordon Hall, director of real estate and facilities.
It also significantly increases the number of conference rooms—the previous office had four, while the new headquarters offers 54—and many of the rooms have floor-to-ceiling removable walls, so the space can be rearranged when necessary.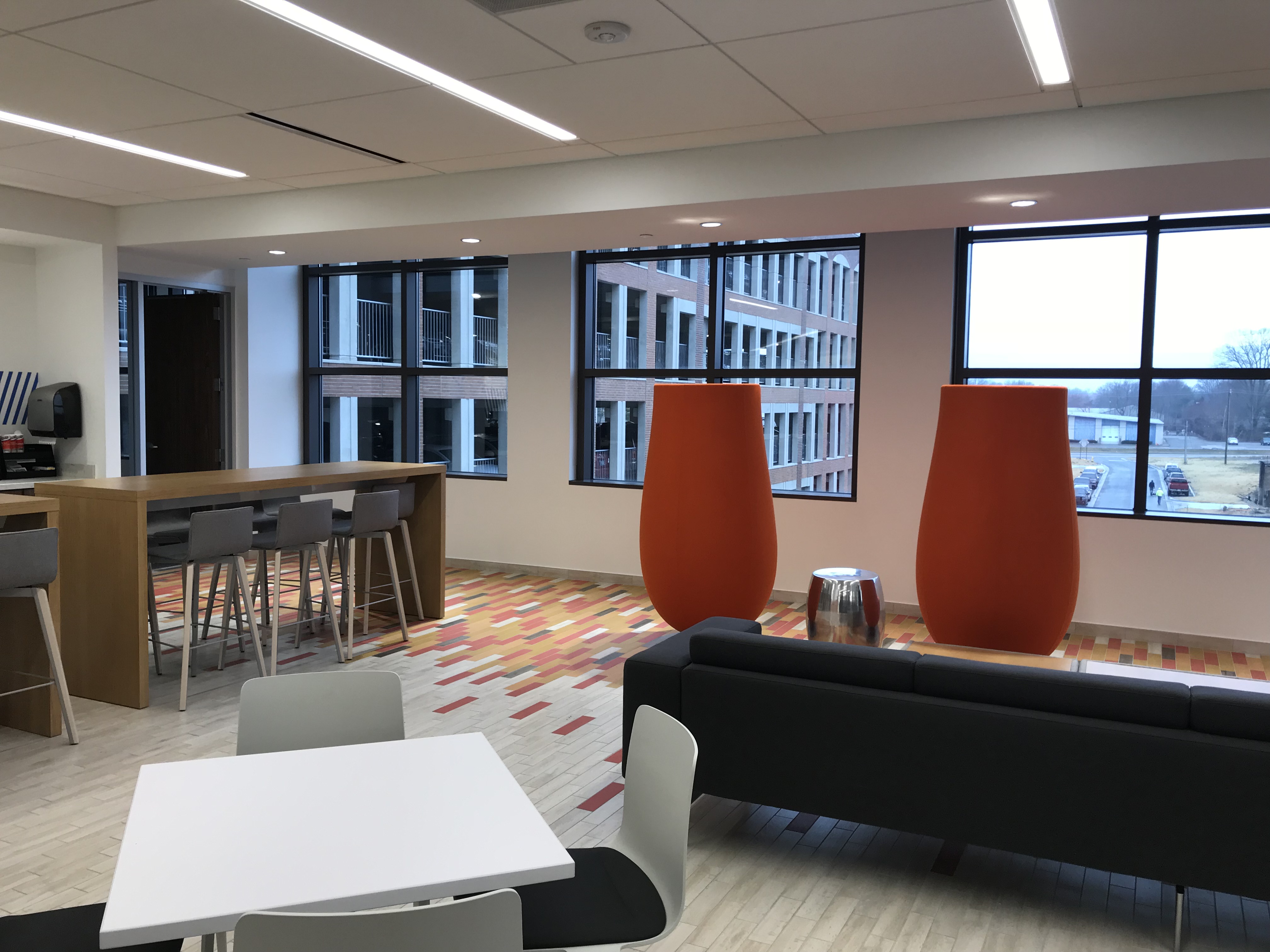 Each floor has a "social hub" or break room (see photo to the right) for employees and a "break out space" that features different games like pingpong, golf and Jenga. The pingpong table (see photo below) has already become an employee favorite—they started with 12 balls and are down to one, according to Hall.
He said they knew adding the "fun spaces," as employees call it, could be a problem, and it will be up to the managers to police it.
"It's a great place to get away," Hall said.
Hall said they considered adding a fitness center to the building, but decided there wasn't enough interest to justify the cost. Instead, they added showers for employees to use as a way to encourage people to use the Monon Trail.
In the spring, the company will offer a bike-sharing program.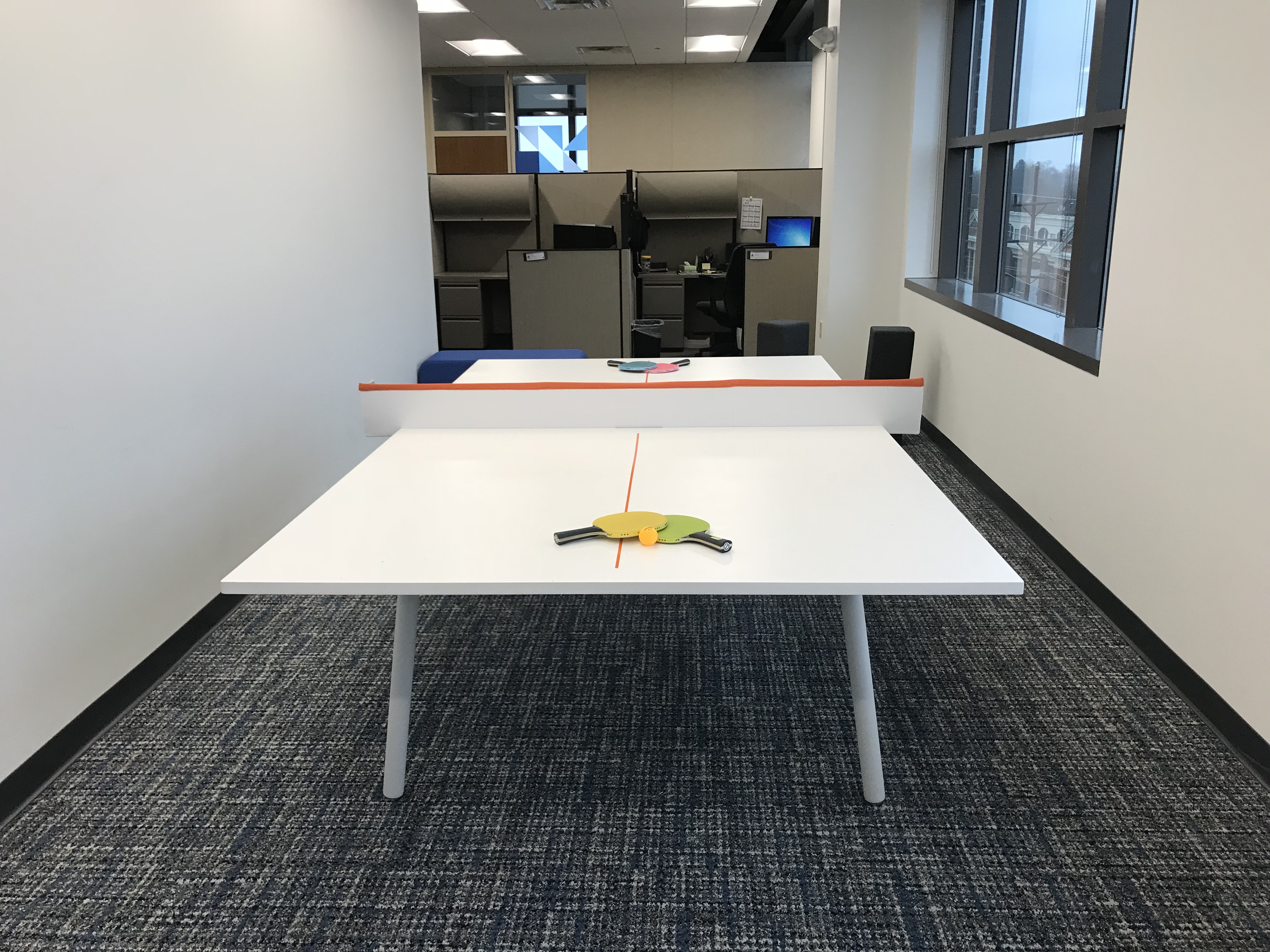 Urbanski said they started looking for new space at the end of 2014, knowing their 10-year lease expired in 2017 and they needed more room to grow.
"What we realized was there really wasn't a [desirable] space that existed at that point in time that we could move to," Urbanski said.
So they considered new construction, and because they wanted to stay in Carmel, Midtown became the right choice.
The $210 million Midtown development, which local officials hope will provide a link between City Center and the Arts & Design District, is expected to include a mix of retail, office and housing on 17 acres along the Monon Greenway.
"We had great confidence that, despite it was so new, that it was really important to the city," Urbanski said. "And despite the fact that we were going to be the first, we really felt, you know, this has so much focus, attention and importance, that we think we're going to be in a good spot."
The Allied Solutions building and attached parking garage are the first projects to be completed, but others are underway.
Sun King Brewing Co.'s craft distillery and tap room is under construction immediately to the west of Allied Solutions.
The $5 million, two-story, 15,000-square-foot facility will provide production capacity of up to 10,000 proof gallons and seating for 300 people, including space on a rooftop deck that will overlook the Monon.
The city is also working on a $23 million Monon expansion project that will redesign the 12-foot-wide path into a 140-foot-wide area from City Center Drive northward to 1st Street Southwest. The newly named Monon Boulevard will include dedicated lanes for bicyclists, buffer zones, sidewalks, green spaces, one-way streets with parking on both sides of the trail, and a plaza adjacent to the Sun King facility and Allied Solutions.
While being the first tenant in a redevelopment area can be lonely, Tabitha Hufhand, corporate brand manager, said the employees are already enjoying the amenities nearby in downtown Carmel and at City Center.
"It's a vision and it's going to take some time to build some stuff, but we already have access to cool things," Hufhand said. "It is very cool to see how they've immediately embraced the new surroundings."
Please enable JavaScript to view this content.