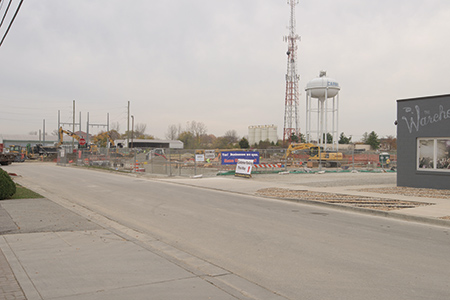 Justin Moffett is getting pushed out of his own project.
When he revealed his vision for the mixed-use Midtown development in Carmel two years ago, he planned to move Old Town Development's office there.
But interest has grown, and the property that had been designated for his Carmel-based company's office now will house Indianapolis-based Sun King Brewing Co.'s $5 million distillery and taproom.
"As the project has evolved, we've said, 'What's the highest and best use for this piece of ground? Is it an office building for Old Town or a Sun King craft distillery?'" Moffett said. "And you kind of go, 'Well that's not a hard question to answer.' Nobody cares if my office is there."
And that's not the only element that has evolved as Moffett and his team have fine-tuned the details of Midtown, which city officials have touted as a much-needed link between City Center and the Arts & Design District.
A previously announced co-working space with a wine and coffee bar no longer has a specific spot, and the city market proposed to occupy the first floor of an office building has morphed into a different setup that will go in the Sun King facility.
Also, the price tag and size of the development have increased. It had been projected to cost $150 million and include 11 acres, but now covers 17 acres and could end up costing more than $210 million. The mostly industrial space has now been split into east and west portions divided by the Monon Trail.
Old Town Development is the primary developer for the $150 million Midtown East section. It's partnering with Ambrose Property Group for the office and retail components and J.C. Hart Co. Inc. for the residential projects.
Barrett & Stokely is the lead developer for the $60 million Midtown West.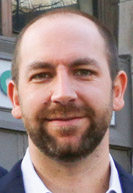 Chittenden
The city of Carmel is also financially involved. In March, the Carmel City Council approved $20 million in bonds to help pay for two parking garages in Midtown East and the public plaza that will border the Monon Trail.
The city is also investing in improvements to the Monon. In March, Carmel hired Gehl Studio Inc., a branch of Denmark-based Gehl Architects with offices in San Francisco and New York, to reimagine the 1.2-mile stretch of the trail from First Street NW to Carmel Drive.
It took nearly two years to finalize design and financing for the first phase of Midtown, but Moffett predicted that the other components will fall into place quickly now that construction has started.
"I think, if anything, we undersold what we thought we'd be," Moffett said. "I'd say two years ago, we were pretty hopeful, but I don't know if we believed it yet."
Slow start
After announcing Midtown, Moffett said, his team actively started searching for an anchor tenant that could give the project momentum.
This January, Carmel-based Allied Solutions LLC got the ball rolling when it announced it would invest nearly $33 million to construct a 135,000-square-foot, five-story headquarters within the development.
Allied Solutions, a firm that sells insurance, lending and marketing products to financial institutions across the country, will occupy four floors of the building. The company has more than 420 employees already in Carmel and plans to add up to 600 by the end of 2025.
Then in April, Indianapolis-based real estate firm F.C. Tucker Co. announced it would occupy 15,000 square feet of the first floor of the Allied Solutions headquarters.
The building, now under construction and expected to be completed next fall, will also include 3,000 square feet on the ground level for a restaurant.
Moffett said the team is targeting a breakfast or lunch restaurant, and they've had high interest in the space.
"We've had the luxury of saying 'no'," Moffett said. "We want tenants that are going to be good for the culture of the neighborhood."
Patrick Chittenden, executive vice president at Ambrose, said his company got involved with the office and retail buildings, including the Allied Solutions headquarters, because of their proximity to the Monon Trail.
Allied Solutions will fill the top four floors of its five-story, 135,000-square-foot headquarters. F.C. Tucker Co. is set to occupy 15,000 square feet on the first floor. (Rendering courtesy of Old Town Development)
"We're pretty encouraged and bullish to be on the Monon," Chittenden said. "I don't want to say it's waterfront, but it's pretty close to waterfront."
A 580-space parking garage, now under construction, will connect to the Allied Solutions headquarters and include about 5,000 square feet for a restaurant and 2,000 square feet for other retail, Chittenden said. The garage will also provide public restrooms and a bike room.
In September, Midtown got another boost when one of the longest-awaited agreements became public: Sun King revealed its plans to open a two story, 15,000-square-foot distillery and taproom.
Moffett said that deal had been in the works since Midtown was announced.
"I think [Sun King] started to see the writing on the wall," Moffett said. "It went from Old Town's dream that this project could happen to, 'This is getting real, and if we don't do it, somebody else is probably going to do it.'"
The Sun King facility will also include four "micro-restaurants" that will allow customers to order from any of them and buy their drinks from Sun King.
Moffett described the setup as an "adult food court," similar to a city market but with prepared foods only instead of including produce.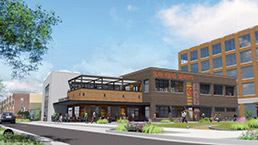 Sun King's two story, 15,000-square-foot distillery and taproom will include four "micro-restaurants." (Rendering courtesy of Old Town Development)
"I think it's going to be a fun environment," he said.
The building will have seating for up to 300 people, including a rooftop deck overlooking the Monon Trail and public plaza.
The facility should be under construction within a few months, Moffett said.
Up next
On the other side of the Monon Trail, Barrett & Stokely hopes to break ground on Midtown West next year.
"What the site represents to us is a very unique opportunity due to the location," said Bryan Barrett, principal of Barrett & Stokely. "As far as Hamilton County is concerned, it's one of the best locations left."
The six-acre site will include a $25 million headquarters for Merchants Bank of Indiana, a 170-unit high-end loft apartment building, and a parking garage.
The Merchants Bank building will be four stories and 100,000 square feet, with 12,000 square feet of ground-level retail or restaurant space facing the Monon Trail.
Barrett said the apartments will resemble the quality of owner-occupied condos.
"They're not going to be like most of the traditional new apartments," he said.
Construction is expected to start next spring.
Moffett said his team has now turned its attention to finalizing plans for an apartment building, office and retail structure, and parking garage that would be south of the future Fifth Street.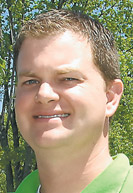 Moffett
The 216,000-square-foot apartment complex known as Midtown Flats will provide 206 units.
Despite the city's continually pushing developers to provide for-sale options downtown, Moffett said for-rent units are in higher demand. Like Barrett, he said these apartments will also be of higher quality than most.
"I think people think apartments, and they think cheap," Moffett said.
The 327-space parking garage will be north of Midtown Flats and adjacent to a four-story, 80,000-square-foot office and retail building.
Moffett said he's talked to one tenant that could occupy the entire office building, but he thinks it's more likely several users will fill the space.
That section could be under construction by March or April, he said.
The last portion of Midtown, which includes a swath of land that borders Rangeline Road, is still in the design and planning stages. But a hotel has expressed interest, and Moffett expects the space to include more office, retail and restaurant opportunities.
Construction could start in 2018.
"It's been fun to see the evolution," Moffett said. "I'm pleased with it. I think we did everything we could to make it a special place."•
Please enable JavaScript to view this content.