Locally based Mann Properties is pitching retailers in Las Vegas this week on a couple of mixed-use developments slated for the north side:
A project with 132 townhomes and a retail strip called Creekside Shoppes would be built along 86th Street just west of Michigan Road.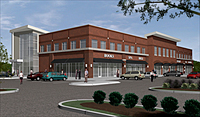 The plan calls for retail fronting 86th Street and townhomes to the south. Mann put the 20-acre site under contract last week and still must seek zoning approval.
Another project, Noblesville Crossing (pictured), would be built at the southwest corner of State Road 37 and 146th Street. Mann already has won approval for that plan, which calls for a 32,000-square-foot, two-story building with office and retail space, along with retail outlots.
An office building at Masters Crossing at the corner of 96th Street and Masters Road will serve as Mann's new headquarters, but the project could also include retail. Mann is considering another two-story retail/office building for a two-acre parcel at the corner.
UPDATE: Here's the rendering of Noblesville Crossing. What do you think?
Please enable JavaScript to view this content.