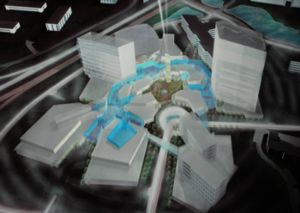 Premier Properties has unveiled some of the details of its $750-million plan for a huge mixed-use development at the southwest corner of 86th and Keystone Avenue. The project is called Venu, a play on the word venue and not a reference to the bamboo flute used in India (thanks, Wikipedia). In earlier planning stages, the project had been known as Woodfield Crossing. While the plans have not been submitted for zoning approval yet, members of the Nora-Northside Community Council expressed support for the concept Thursday. The plans call for:
A 24-story office tower, two 10-story residential towers and a 20-story hotel.
A 5,000-seat theater that would feature Broadway shows.
6,000 parking spaces including three levels of underground parking.
About 15 restaurants.
LEED certification.
Please enable JavaScript to view this content.