Two new retail concepts are hoping to cash in by pairing their offerings with fresh-brewed coffee.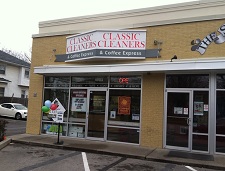 Classic Cleaners & Coffee Express opened this week at the northeast corner of College Avenue and 49th Street. The shop uses an eco-friendly, no-odor cleaning solution, meaning the only aroma in the shop comes from the fresh-brewed organic Copper Moon coffees. The shop, which also features traditional laundry equipment, is the 18th in central Indiana for the homegrown Classic chain.

Pearings Frozen Yogurt & Beyond has inked a deal to open at the northwest corner of Washington and Meridian streets between T-Mobile and Rock Bottom Restaurant and Brewery. The shop will feature frozen yogurt and a "PEARings" bar that varies depending on the time of day (morning offerings to include Greek yogurt, oatmeal and crepes). Brewed coffee, an espresso bar, smoothies and juices will be available all day. Owner Matthew Meinema's goal is to franchise the concept.
Elsewhere:
Charlie & Barney's, the homegrown chili specialist, has closed its outpost in the first floor of PNC Center between Subway and Pizza Di Tito. Charlie & Barney's continues to operate its flagship restaurant at 225 E. Ohio St.
Pandora, the Danish jewelry company, plans to open a store at The Fashion Mall at Keystone. The shop is taking 750 square feet. Pandora already has a store at Castleton Square Mall and sells its wares at several jewelry stores.
Noble Roman's plans to open a standalone take-and-bake shop at the southeast corner of 96th Street and Michigan Road. The concept is taking 1,400 square feet in a center that also includes Subway and Honey Baked Ham.
Jack in the Box has opened its newest Indianapolis-area store along 38th Street between High School and Moller roads, its sixth in the local market.
Please enable JavaScript to view this content.