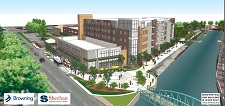 Browning Investments has submitted to city officials an updated rendering for its massive $20 million mixed-use development in Broad Ripple. 
Because of the latest changes, city officials have continued Browning's proposal for a zoning change from July 25 until Aug. 15
Browning's latest plans feature more apartments on Carrolton Avenue. The developer also has lowered the height of the building, reduced the number of spaces in the parking garage and modified the architecture.
Click here to see the old rendering. Notice the large balconies are gone from the residential building and the changes to the design of the 35,000-square-foot retail space slated for a Whole Foods.
Browning Investments has staked out about two acres northeast of the intersection of College Avenue and the Central Canal for the project that also would include a parking garage and 108 apartment units.
The architect on the project is Browning Day Mullins Dierdorf.
Please enable JavaScript to view this content.