From ice cream to steak: Graeter's finalizes plans to open first Indianapolis location; Mo's … A Place for Steaks undergoes name change.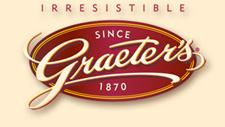 • Graeter's, the historic Cincinnati-based ice cream shop, has signed a lease to occupy 2,142 square feet at 5560 N. Illinois St. in the Butler-Tarkington neighborhood. The location formerly occupied by Curley's Cleaners will be the chain's first store in Indianapolis. Franchisee Jim Tedesco plans to seek a zoning variance Aug. 15 and open by the end of the year, said his broker, Steve Delaney of Sitehawk Retail Real Estate.
IBJ first reported in May that Graeter's was scouting locations in Indianapolis.
• Mo's … A Place For Steaks has undergone a name change and is now known as J. Hamman Prime, in recognition of the chain's manager, Jeremiah Hamman. The restaurant has locations downtown at 47 S. Pennsylvania St. and at Clay Terrace in Carmel.
Hamman said he has plans to open in Cincinnati this fall and is targeting Austin and Dallas for future expansion. The new name should eliminate any confusion with other establishments that use the Mo's brand, including Mo's Irish Pub and Moe's Southwest Grill, he said.
• TekMentum has opened at 10 N. Pennsylvania St. in space formerly occupied by Cartridge World. The company is a division of locally based KPaul Properties LLC that provides branded hardware and software products.
The space recently was bought by local developer Keystone Group as part of its purchase of the neighboring building that formerly housed a Dunkin Donuts.
Plans for the building at the high-profile corner of Washington and Pennsylvania streets include adding a second story in hopes of luring a national restaurant.     
• It's All Greek to Me has signed a lease for the freestanding 2,520-square-foot former Donato's Pizza building located at 3530 Mann Road. The restaurant should open within the next 45 days and will be the first location for the Greek restaurant, operated by the owners of the local Flap-Jacks Pancake House chain, Pete and Debora Avgerinos.
• Red Line Frozen Yogurt plans to open later this month within 1,870 square feet at Arlington Commons, 5920 E. Stop 11 Road near Arlington Avenue on the city's south side. Red Line has an existing shop in Plainfield.
• Firehouse Subs opened its 10th location in Indianapolis late last month, at 5841 Crawfordsville Road. The restaurant is operated by local franchisees John Moore and Ian Brown.
• Curries & Chutneys, an Indian restaurant, has opened at 8840 N. Michigan Road, Suite 105. The menu features ethnic sweet and spicy recipes.
• The Ugly Monkey bar at 373 S. Illinois St. has closed.
 
Please enable JavaScript to view this content.