Motorists traveling near Indianapolis Motor Speedway might feel like 500 race winner Tony Kanaan when trying to maneuver the confusing Crawfordsville Road and 16th Street intersection.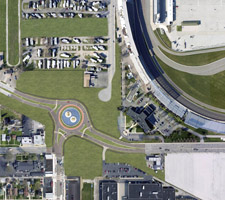 The intersection, made even more perilous by Georgetown Road connecting from the north, is about to get a major makeover, however, at a cost of $14 million.
Taking a page from Carmel's playbook, the town of Speedway announced Tuesday that it will convert the crossroads into a roundabout.
The biggest changes: Georgetown Road will end in a cul-de-sac just north of the current intersection at 16th Street, while Main Street will connect to the roundabout from the south.
"There's no direct connection today," says Scott Harris, executive director of Speedway's redevelopment commission. "Opening Main Street to Crawfordsville Road will enhance economic development."
Construction of the roundabout should start late this year and be completed by December 2014. The reconfiguring of the roadways represent Speedway's latest attempt to transform the town into a year-round racing-themed destination.
The 400-plus-acre project includes road improvements, land acquisition and a total makeover of Main Street.
Harris says the roundabout is the "next step" in the town's master plan that was adopted in 2007. And it also may help to reduce the number of accidents that occur every year at the Crawfordsville Road and 16th Street intersection.
Police in 2012 reported 49 accidents there, more than 60 percent of the total number of crashes in Speedway for the entire year.
 
 
Please enable JavaScript to view this content.