It's been about a month since veteran custom homebuilder Ursula David moved into her modular home near downtown, and she has no regrets.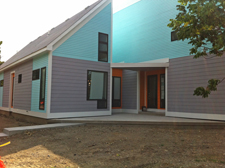 "I love it," she said.
The move was somewhat of a whirlwind for David. The factory built the home in roughly three weeks, delivered it in late June, and she moved in five weeks later, on July 31.
But her modular home is hardly the prototypical prefab. It was custom-designed by local firm Axis Architecture + Interiors and the first to be erected on the 10 lots she purchased in the Cottage Home Neighborhood. Six are on the south side of East 10th Street between Highland and Stillwell streets, near Massachusetts Avenue.
The homes range in size from 1,500 square feet to 2,000 square feet, and start at $300,000. David so far has sold one of the homes and plans to put up another on a speculative basis to drum up interest.
"We're going to have a couple of open houses, and we'll see how it goes," she said.
David's home consists of a kitchen, two bedrooms, two bathrooms, living room, dining room and an office. It even has a basement.
Buyers can have their Axis-designed homes built with as many baths or bedrooms as they wish, and with more expensive finishes such as granite countertops, depending on how much they want to spend.
 
Please enable JavaScript to view this content.