A YMCA project proposed as part of the CityWay development likely will include much more than just a recreational facility.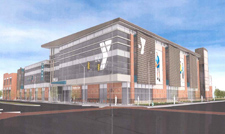 Plans call for a three-story, 87,000-square-foot building with the YMCA occupying the upper two levels and retail space below. In addition, the project features an adjoining two-story, 12,000-square-foot medical office with surface parking.
The mixed-use development would be built on the southeast corner of Delaware and South streets. South of the Alexander Hotel in CityWay, the site currently includes a parking lot for Eli Lilly and Co.
Plans submitted to the city by the YMCA of Greater Indianapolis show the larger building clad in brick, metal panels and glass. The glass on the upper two floors would face South Street to give patrons a view of downtown, the YMCA's filing says.
The medical office building would be a "traditional design that reflects older buildings directly across the street."
The YMCA of Greater Indianapolis declined to provide Property Lines a project cost or estimated construction date.
"We continue to work with community leaders and volunteers to raise the money necessary to begin construction, with groundbreaking dependent upon our success in that endeavor," the not-for-profit said in an e-mailed statement.
The architect for the project is Browning Day Mullins Dierdorf Architects.
If the development is built, it would be the third YMCA in downtown. The other two are located in the Athenaeum and in the Indy Bike Hub at City Market.
The Metropolitan Development Commission's Regional Center Hearing Examiner was set to hear the plans Thursday morning.
Because the site is within the Regional Center overlay district, the project needs to comply with Regional Center Urban Design guidelines and requires initial approval by the city's hearing examiner.
Developed by Buckingham Cos., CityWay includes the 157-room hotel, 320 apartments and 40,000 square feet of existing retail space. The retail space has been slow to lease so far and has attracted just two tenants—Orange Leaf and Qdoba.
Please enable JavaScript to view this content.