A high-profile retail building in the Meridian-Kessler neighborhood has changed hands.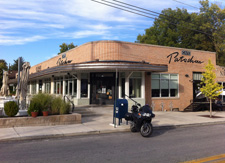 Locally based Ambrose Property Group completed the purchase of the 12,100-square-foot center at the northeast corner of 49th and Pennsylvania streets Oct. 9, Ambrose President Aasif Bade said.
Ambrose bought the building, listed for $3.65 million by Riser Retail Group, from another local firm, Eclipse Real Estate.
It's completely occupied and anchored by Martha Hoover's Cafe Patachou and Napolese restaurants. Other tenants include DL Lowry Salon, Studio 49 Fitness and Meridian Heights Cleaners Inc.
The neighborhood's affluent demographics make the building an attractive investment. Within a one-mile radius, the average income is $95,448, according to the listing.
"It's a very high-density location with some pretty extraordinary incomes," said Bill French, a retail broker at Cassidy Turley. "It's kind of a little retail oasis."
Ambrose has no immediate plans for the building, Bade said. The company's other properties include the downtown Circle Tower at 55 Monument Circle; a 550,000-square-foot distribution center near Monrovia, set to be occupied by Gordmans Inc. next month; and several apartment projects that it's completing or developing with TWG Development LLC.
 
Please enable JavaScript to view this content.