The town of Speedway has purchased a second motel property near Interstate 465 as part of its plan to establish a gateway into the town.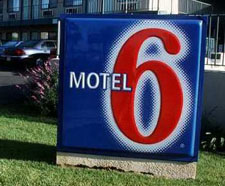 Speedway officials paid $1.6 million for the 6 acres where a Motel 6 sits at 6330 Debonair Lane, north of Crawfordsville Road. The motel, which recently closed, had been owned by Carrollton, Texas-based G6 Hospitality LLC. Plans call for the building to be torn down by the end of the year.
In late 2010, Speedway demolished a vacant Budget Inn on 3.2 acres near Interstate 465.
The two properties aren't connected. But town officials are acquiring as much property as possible at the interchange to make the area more attractive for redevelopment, said Scott Harris, executive director of Speedway's redevelopment commission.
"We're looking to evaluate opportunities and redevelopment," he said. "It's a gateway to not only Speedway but the Indianapolis Motor Speedway."
Speedway officials are waiting for the Indiana Department of Transportation to finish a new interchange at I-465, Interstate 74 and Crawfordsville Road before proceeding.
Closer to the raceway, crews are preparing to convert the crossroads at Crawfordsville and 16th Street into a roundabout. Construction should start late this year and be completed by December 2014.  
Speedway is attempting to transform the town into a year-round racing-themed destination by embarking on a 400-plus-acre project that includes road improvements, land acquisition and a total makeover of Main Street.
 
Please enable JavaScript to view this content.