The long-awaited plans to improve upon the gaudy design of the ill-fated Di Rimini apartment project are beginning to take shape.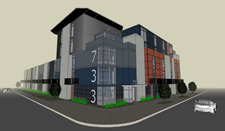 The new owners of the building, local restaurateur Mike Cunningham and contractor Patrick Heitz, are ready to present their design to the Indianapolis Regional Center Hearing Examiner.
"We're going to start demolition as soon as we get the proper permitting," Heitz said.
That should be welcome news to local design aficionados who jeered the building's look.
On top of that, city officials halted the project three years ago because of numerous code violations.
Cunningham and Heitz purchased the vacant 31-unit complex at 733 N. Capitol Ave. in late March from Louisville-based Stock Yards Bank & Trust for $700,000. The bank had taken ownership of the building last year after foreclosing on a $2.8 million loan to the original developer.
The pair plan to spend about $1.5 million on upgrades and are simply calling the complex "733" in a nod to its street address.
The architect on the project is HCO Inc.
 
Please enable JavaScript to view this content.