A couple of residential developments, one a senior housing complex and the other a small mixed-use project, are in the works for the Near-North area.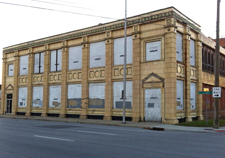 Last month, TWG Development LLC received approval from a city zoning board to convert a vacant building (right) at 1352 N. Illinois St. into 63 affordable senior-housing units.
With the boom of downtown multifamily construction, which is attracting millennials and empty-nesters, the elderly are getting "squeezed out," TWG partner Joe Whitsett said.
TWG plans to invest $9.6 million by seeking federal tax credits to help finance the project. Construction wouldn't start until after February, when the developer will find out whether it received the credits.
Built in 1929, the four-story structure formerly housed the Fame Laundry Co. TWG purchased it from the locally based Michaelis Corp. home-restoration company.
Plans call for the construction of a four-story addition to the south of the building, bringing the total square footage of the project to 71,300 square feet.
Meantime, Hamid Abbaspour, president of the Dr. Aziz pharmacy and medical clinic on East 82nd Street, is proposing a 5,000-square-foot mixed-use development at 2301 N. Meridian St.
The two-story building would be constructed on a vacant lot where Sherry's Nightclub formerly stood.
Abbaspour is proposing a family practice or urgent care center that Dr. Aziz would operate on the first floor, with either residential or office above.
"We feel like this would be a nice addition to the other developments that are happening there," he said. "This is going to be a beautiful building right in the neighborhood."
The Metropolitan Development Commission's hearing examiner is set to hear the proposal to rezone the property Thursday afternoon.
 
Please enable JavaScript to view this content.