Lincoln Apartments, the city's first permanent supportive housing facility for homeless veterans, opened Tuesday, about a year after city and local not-for-profit officials broke ground on the project.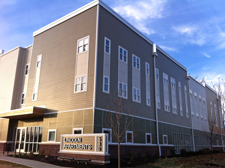 The $12 million, 75-unit complex, located at 530 Holmes Ave. just north of West Michigan Street on the city's near-west side, was built on the site of a former iron works foundry. The project was announced a year ago.
The total cost of the project includes the value of grants, federal housing tax credits and site remediation. The city donated the land, which had been vacant since 1962, and paid for remediation with federal and state grants.
Mayor Greg Ballard, a former Marine, said the Lincoln Apartments represent the most recent addition to the city's list of successful public-private partnerships.
"I am thankful for everyone involved for their work to honor our homeless military veterans with this project," he said in a written statement.
Great Lakes Capital Fund arranged the sale of tax credits to provide $9.8 million in equity.
The development team included Building Blocks Non-Profit Housing Corp., Volunteers of America of Indiana Inc. (which will manage the facility), Milner and Caringella Inc., Roudebush VA Medical Center (located about a mile away) and Keystone Construction. The architect is Axis Architecture + Interiors.
Lincoln Apartments' ribbon cutting fell on the 150th anniversary of President Lincoln's Gettysburg Address.
 
Please enable JavaScript to view this content.