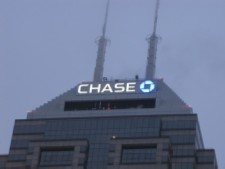 Chase has joined the ranks of most other large banks that have affixed their names atop the downtown towers housing their Indiana operations.
At 48 stories, Chase Tower is downtown's tallest building, making it hard to miss the bank's moniker and logo that now adorn it.
So what took Chase so long to put signage on the tower? Apparently it didn't have the rights under previous lease arrangements, according to local real estate sources.
Suburban-Boston-based CommonWealth REIT—which already owns downtown's 630,000-square-foot PNC Center—paid $201 million last year for the tower. The seller was Beacon Capital Partners, also of Boston. Beacon bought the building in 2011 as part of a package of 14 properties it acquired for $1.7 billion from Charter Hall Office REIT of Australia.
The building opened in 1990. At 830 feet, it's the 38th-tallest tower in the United States.
The tower was originally conceived in the late 1970s by the late Frank E. McKinney Jr., chairman of American Fletcher Corp., the holding company for American Fletcher National Bank and Trust Co., according to the building's written history. At the time, American Fletcher was Indiana's largest financial institution.
Before construction began, American Fletcher was bought in 1986 by Bank One Corp. McKinney became chairman of Bank One's Indiana operations, and planning for the tower gained steam. Construction began in 1988.
An interesting tidbit about the building: It secured the prestigious 111 Monument Circle address, even though the building fronts Ohio Street, by integrating with American Fletcher's existing headquarters on Monument Circle.
 
Please enable JavaScript to view this content.