Wishard Memorial Hospital has been closed for about a month, but thousands of non-medical items still remain on the Wishard campus.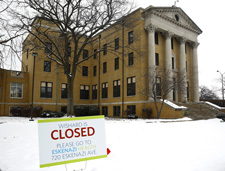 To rid the buildings of the surplus, a massive public sale will be held from 9 a.m. to 3 p.m. Jan. 11-12. Among the items available: furniture, office chairs, desks, recliners, file cabinets, artwork, flat-screen televisions, computers, laser printers, microwaves and refrigerators.
Only cash will be accepted, and items must be hauled away at the time of purchase.
Entry to the sale is through the main entrance of Wishard on Wishard Boulevard. Parking is available in any of the nearby parking garages.
Not-for-profits will have a chance to take anything that is left free of charge. They must pre-register by calling 880-4789 and will need to show proof of 501(c)(3) status upon arrival.
Wishard's 17 buildings need to be cleaned before Indiana University can acquire the land near the IUPUI campus as part of a swap with the city that cleared the way for the $754 million Eskenazi Health just to the west.
As IBJ reported Jan. 6, the university wants to expand its health services program by using some existing Wishard space and tearing down other buildings and replacing them with modern facilities.
Chicago-based Centurion Service Group LLC is conducting the sale. Any money left after paying Centurion will go in Health and Hospital Corporation of Marion County's general fund. The corporation operated Wishard and now runs Eskenazi Health.
 
Please enable JavaScript to view this content.