The Progress House has been providing residential assistance to recovering alcoholics and drug addicts in Indianapolis for more than 50 years. But the not-for-profit has never received a donation quite like the one given to it by a local commercial real estate firm.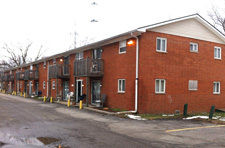 Van Rooy Properties has contributed a two-building apartment complex on the city's east side that will enable Progress House to expand the number of beds it provides from 75 to 123. The property on North Bolton Avenue, tucked between Emerson and Arlington avenues on a dead-end street, is valued at $950,000.
"Our population is wide-ranging" said Tadd Whallon, the organization's director of development. "We literally have people who have lived on the streets for years, and we have re-entries (from incareration). And then we have doctors, lawyers and businesspeople. Some of them don't have anything to go back to."
In addition to the apartment buildings, Van Rooy contributed $90,000 for operational costs.    
The donation is the single largest in the Progress House's history, Whallon said.
The organization is located at 201 S. Shelby St. on the city's near-southeast side in a facility that was built in 2001. Progress House had wanted to launch a capital campaign to raise money to build more transitional housing but has been hampered by the economy.
"It really just fell in our lap," Whallon said of Van Rooy's donation. "It's pretty amazing."
One of the apartment buildings on Bolton Avenue will be used for transitional housing and the other for permanent housing. Residents pay rent, and Progress House helps them find jobs.
The apartment buildings donated by Van Rooy formerly served the Beacon House, another transitional housing program that is no longer in existence.
 
Please enable JavaScript to view this content.