An Indianapolis developer has closed on the sale of a nearly vacant shopping center on the northeast side to make way for a new retail project that will be anchored by a Wal-Mart Neighborhood Market.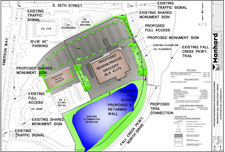 Douglas Realty Advisors partnered with Wal-Mart to buy the 10-acre property on Jan. 17 from a Louisville investment group.
Built in the 1970s, the 108,000-square-foot shopping center at 56th Street and Emerson Avenue was once anchored by an O'Malia's grocery store but has just one tenant remaining—a Dollar General store.
As part of the redevelopment, a new Dollar General store will be built across the street where the 56th Street Fish Market was located. It closed in 2007, and IBJ reported in its Jan. 20 issue that the owner has launched another market, Caplinger's Fresh Catch, at 75th Street and Shadeland Avenue.
Meanwhile, Douglas Realty's project will include a 42,000-square-foot Neighborhood Market and 15,000 square feet of small-shop retail space. (Click on image above for a detailed site plan.)
Demolition is set to begin in March, with the grocery store opening by the end of the year. The total investment in the property will be about $15 million, said Douglas McAuley, a partner in Douglas Realty.  
"Once upon a time, it was a very viable grocery center," he said of the property formerly known as the Windridge Center. "It drew a lot of traffic from the neighborhood. So there's a pretty big void."
McAuley said the nearest groceries are Kroger stores at 71st Street and Binford Boulevard and at 42nd Street and Arlington Avenue.
Douglas Realty received unanimous approval from the Metropolitan Development Commission in July to rezone the land.
The firm is developing a similar project on the west side in the Highland-Kessler neighborhood at the southwest corner of Michigan Road and Kessler Boulevard.
The project also calls for a 42,000-square-foot Neighborhood Market, which should be open in the summer, in addition to 18,000 square feet of retail space.  
Wal-Mart is making a push into Indianapolis with its Neighborhood Market stores, which are much smaller than its supercenters. Its latest store, at 131st Street and State Road 37 in Fishers, opened earlier this month.
 
Please enable JavaScript to view this content.