A couple of weathered bungalows in the 5900 block of North College Avenue won't be torn down after all to make way for a two-story office building.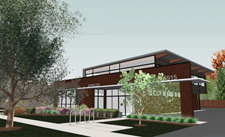 Scott Lindenberg and Thomas Willey, who operate Reliant Partners Commercial Realty on Westfield Boulevard in Broad Ripple, had planned to invest $1.5 million in the 5,700-square-foot project.
But members of the Metropolitan Development Commission on Wednesday voted 5-3 to reject their proposal.
One of the more outspoken critics of the redevelopment was Clare Fox, who owns the building at 5901 N. College Ave.,  just south of the homes, and who operated Fox Studios there for 33 years until it closed in July.
"The Envision [Broad Ripple] plan calls Kessler and College a gateway to the Broad Ripple Village that should speak to the village character," she told commission members. "These homes are an integral part of that village character. The proposed building is not."
The Envision Broad Ripple plan, a guideline for village development completed in late 2012, took center stage in the debate surrounding the development of the office building.
The Broad Ripple Village Association's development committee had voted 10-1 to support the project, believing the two homes were close enough to commercial activity to be sacrificed.
"Our interpretation [of Envision Broad Ripple] is that a commercial node should be treated differently than mid-block residential areas, particularly on these arteries that have potential for mass transit," Brooke Klejnot, executive director of the BRVA, told IBJ before the commission's vote.
The commission may not have heard the last from Willey and Lindenberg, however.
"We'll come up with Plan B, for sure," Willey said. "Certainly, we'll come up with an alternative and use this building that we've got designed elsewhere."
The architect on the project was locally based One 10 Studio.
 
Please enable JavaScript to view this content.