• La Mulita, a new cantina-style restaurant and bar, is set to open March 19 in the same building that houses Latin eatery Delicia at 5215 N. College Ave. in the Meridian-Kessler neighborhood.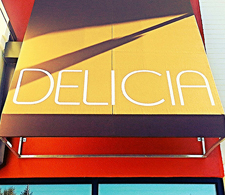 La Mulita and Delicia are led by Bill Ficca, Jamie Browning and Tim and Nicole Oprisu. Parts of the ownership group operate several restaurants in Broad Ripple, including 317 Burger, Northside Social and Usual Suspects.
• Artisano's Oils & Spices is taking the last available space, 1,283 square feet, in Nora Shops West. Artisano's offers oils, spices, vinegars and salts from around the world and is moving from its location across the street at 1101 E 86th St., Suite B.
Artisano's received national exposure in a January episode of the NBC television show "Parks and Recreation," during a scene at a farmer's market in which the retailer had a booth.
• The North End is the name of Ryan Nelson's new barbecue restaurant, opening at Nora Shops West in May. Nelson is chef/owner of Late Harvest Kitchen at The Shops at River Crossing.
• Tinker Street, from local restaurateurs Peter George and Tom Main, is expected to open this summer at 402 E. 16th St., according to the Eat Drink Indy blog. Tinker Street, a nod to 16th Street's original name, will have a strong focus on meatless fare, but will not be a completely vegetarian restaurant. Entrees will likely top out around $16.
• Stacked Pickle, a homegrown restaurant and bar chain, plans to open its first stand-alone restaurant at East Southport Road and McFarland Boulevard. Owner Chris Long hopes to break ground in April on the 4,000-square-foot restaurant—his fourth Stacked Pickle location.
• Hot Mama, a women's clothing store for mothers, is opening March 26 at Clay Terrace. The Edina, Minn.-based company's only other Indiana store is at The Fashion Mall.
• Greenwood Park Mall openings: Charming Charlie, a women's accessory store; Naked Tchopstix, a locally owned sushi restaurant; Charley's Philly Steaks; Tuscanos Brazillian Grill;  and Visionworks, a provider of eye care services with more than 620 stores nationwide.
• Bubba 33, a concept by Texas Roadhouse, has filed plans to build an 8,400-square-foot restaurant at 9770 North by Northeast Blvd., north of East 96th Street in Fishers. Texas Roadhouse has six restaurants in the Indianapolis area, including one in Fishers near Indiana 37 and East 131st Street.
• The RoomPlace is renovating 40,500 square feet at 8401 Michigan Road on the city's northwest side. The space was formerly occupied by a Gold's Gym. The Woodridge, Ill.-based furniture store has locations in Castleton, Carmel and Greenwood.
• Dough Momma's Pizza is taking 2,390 square feet at 6125 E. Thompson Road on the city's southeast side.
• Planet Fitness has opened in 12,690 square feet formerly occupied by a CVS at 7451 N. Shadeland Ave. The clubs are open 24 hours Monday through Friday and 7 a.m. to 7 p.m. weekends. The New Hampshire-based fitness chain has eight locations in the Indianapolis area.
Now for closings:
• Orange Leaf Frozen Yogurt at 309 S. Delaware St. in CityWay has shut its doors.
• Menchie's Frozen Yogurt and Bachrach at Hamilton Town Center have closed.
• Washington Square Mall has lost BonWorth, MCL Restaurant & Bakery, and Rack Room Shoes, and will be without Foot Locker soon. The store is moving to 9729 E. Washington St., formerly occupied by the east side Comic Carnival location.
Please enable JavaScript to view this content.