One of the five teams vying to redevelop the former General Motors stamping plant site is so upset with the process that it's released its proposal to Property Lines.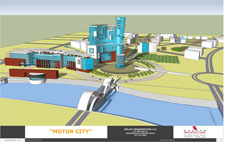 Thaddeus Lupton, an architect who operates Beyond Architecture, and Matt Nolley, a local developer, made up one of five groups that turned in redevelopment proposals last year in response to a request from the Revitalizing Auto Communities Environmental Response Trust, or RACER, a court-created entity that owns the GM property. 
RACER is in charge of cleaning up contamination and finding new uses for dozens of former GM properties in 14 states.
Lupton's group admittedly entered the sweepstakes to develop the 110-acre site a couple weeks after four other teams had already been selected, but he's not happy with a city push to use the site for something totally different.
Indianapolis Mayor Greg Ballard last week began lobbying to build a criminal justice complex on part of the property—a use not included in any of the five proposals solicited by RACER. Lupton believes it's time for the public to see what he and Nolley envision for the site.
Dubbed Motor City, an obvious nod to GM and its Detroit roots, the proposal includes a mix of office and retail space, in addition to a signature hotel and convention space, linked to downtown by a pedestrian bridge over the White River.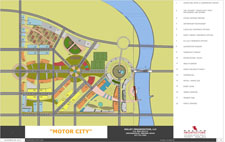 "The position that we're taking now is that since the mayor has come out and presented an alternative option for the site," Lupton said, "we kind of felt that the public deserves to see all of the options for the site."
The offices space marked out in the second rendering for Lucas Oil Products Inc., Eli Lilly and Co. and ExactTarget Inc. is purely speculative, Lupton said.
Also competing to redevelop the property: REI Investments, Ambrose Property Group, Buckingham Cos. and Keystone Group.
REI's plans for a concert venue on the property and Keystone's proposal to build a stadium for owner Ersal Ozdemir's Indy 11 soccer team so far have received much of the attention.
By releasing their plans, Lupton hopes to drum up a little support.
"We really feel like we have a viable solution that deserves a lot more public input," he said. "It's a lot more public-friendly scheme."
Meanwhile, Ballard's office plans to issue a request for proposals for the criminal-justice complex by March 27.
 
Please enable JavaScript to view this content.