The architect charged with designing a new downtown fire station has submitted another draft to the city after the original one received a chilly reception from neighbors.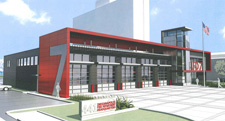 Axis Architecture + Interiors' revised design was to be considered by the city's Regional Center Hearing Examiner on Thursday. But the case was continued until April 10 to give the Indianapolis Fire Department more time to meet with neighborhood groups about the plans.
Check out the updated design (above) as compared to the original (below).
The original design first came up for hearing examiner approval in January, but approval has been continued three times now while the parties involved settle on a suitable sketch.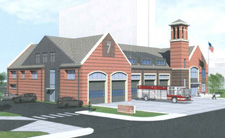 As part of an ambitious real estate swap, IFD plans to move its offices to the building currently occupied by the American Red Cross of Greater Indianapolis at 441 E. 10th St. It would construct the fire station on the same property, which is about four blocks north of the existing IFD complex at 555 N. New Jersey St.
That would make way for construction of a $43 million apartment and retail development at the intersection of New Jersey and Massachusetts Avenue where IFD's headquarters now stands.
Plans for the new fire station filed with the city show a comparatively sleek and more modern two-story, 22,825-square-foot building. The project, slated for the Red Cross' parking lot, eliminates a significant amount of unneeded parking, the filing says. Eighty-nine of the existing 138 spaces would remain.
The station would be built on the southwest corner of the property along Fort Wayne Avenue.
To make way for the fire department, the Red Cross plans to build a new headquarters at the former home of the Payton Wells car dealership at 1510 N. Meridian St. The dealership closed in 2007 and the building was demolished last January.
The Red Cross also demolished a two-story building to the south at 1440 N. Meridian St., the former home of WXIN-TV Channel 59, which moved to Intech Park on the northwest side in late 2003.
The final step would have a team of local developers—J.C. Hart Co., Schmidt Architects and Strongbox Commercial—construct a five-story project with about 235 apartments and 40,000 square feet of commercial space on the 1.45-acre site to be vacated by the fire department.
 
Please enable JavaScript to view this content.