The back end of a building along the Monon Trail that's been home to CrossFit Broad Ripple the past three years is about to be expanded.
CrossFit, located at 6542 Westfield Blvd., in the same building that houses Howald Heating Air Conditioning and Plumbing, has already outgrown its 6,000-square-foot warehouse-type space.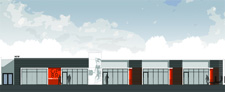 So to keep up with demand for the popular strength and condition program, owner Jeff Edwards will be adding 3,000 square feet. The additional space will front the Monon, making the Howald building into an "L" shape.
But that's not all. Developer Stenz Construction Corp., which is performing the work, has received approval from the city for an additional 5,000 square feet. Stenz has no interest in building speculative retail space and instead will wait for the right opportunity, said Beau Ansty, asset management director of parent Stenz Corp.
"It would be a great spot for a family restaurant, and the onsite parking is really unique for Broad Ripple," he said. "Once [the CrossFit addition] starts coming out of the ground, we think that people will see the great location along the Monon."
As for Edwards, a 2008 Indiana University graduate, he started his CrossFit business five years ago in just 288 square feet of space at 71st Street and Binford Boulevard on the northeast side before moving to Broad Ripple.
The additional space will enable him to expand his classes and host competitions.
"I really love the Broad Ripple area," Edwards, 29, said. "I intended on opening there but space is hard to come by."
Work should start in early summer, Ansty said. The rendering shows the entire expansion, including the retail space.
The architect is DkGr Architects.
Please enable JavaScript to view this content.