The new tenant in the historic Buggs Temple is set to open early next month.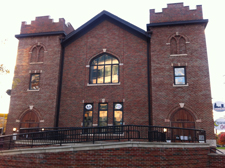 One of the city's largest caterers, Thomas Caterers of Distinction Inc., on May 2 will unveil Canal 337—a name taken from the temple's address at 337 W. 11th St., along the Central Canal.
Thomas Caterers, owned by Kelly Early, has invested $350,000 in the property and is in negotiations to purchase it for about $2.5 million.
The space became available when the five-year lease for Creation Cafe and Euphoria Events expired Oct. 20, and the owners opted to sell the building.
Creation Cafe co-owners Lynn Shepherd and Amy Hornsby posted a note on the restaurant's website at the time of the closing, indicating that they were searching for a new location to reopen the restaurant. It has yet to re-emerge on the local eatery scene.
Meanwhile, visitors to the renovated building will notice a new stained hardwood ceiling offset by earthy bronze and brown tones with crystal accents. Early also added more windows and doors to the south side of the building to provide a better view of the canal.
"The overall look, style and feel of it is 100-percent different," she said. There's definitely an urban chic feel to it. It was very casual before."
The first floor seats 225 and the upper level 150.
Butler University's board of trustees will christen the business by hosting the first event on May 7.
Built in 1918, Buggs Temple underwent a $3.5 million renovation that dragged from late 2003 to 2007. When the building reopened, the downstairs eatery was known as the Grille at Buggs Temple and the upstairs restaurant was called Tavern at the Temple. Creation Cafe and Euphoria replaced those tenants in 2009.
Early's mother, Susan Thomas-Crannell, founded Thomas Caterers in 1984. With $4.8 million in revenue last year, the company has grown to become the city's third-largest caterer, trailing only Kahn's Catering and Ritz Charles, according to IBJ statistics. The company has about 25 full-time and 275 part-time employees.  

It operates an events facility, D'amore, on the top floor of Chase Tower, and has the food contract at the Scottish Rite Cathedral.
Please enable JavaScript to view this content.