Deylen Realty has finalized its design for the firm's latest residential development in the Fletcher Place neighborhood southeast of downtown.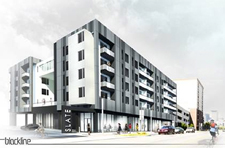 Dubbed Slate, the $10 million, 68-unit, mixed-use apartment project at 501 Virginia Ave. will include 9,900 square feet of street-level retail space along the Cultural Trail.
Deylen Realty announced plans for the development in October.
"As we developed the style of the building, we considered the pedestrian experience in tandem with the message the structure would send," said Craig Von Deylen, lead developer of the project, in a written statement. "We wanted a design that reflects the values of the growing neighborhood."
The five-story structure also will include a 76-space private parking garage and 30 surface spaces. Construction is scheduled to start in mid-May with completion next spring.
Slate will be built where a warehouse now sits. It's Deylen Realty's second apartment project in the area. It will follow The Hinge, a $7.5 million project that opened in August 2012 a few blocks southeast, at 719 Virginia Ave.
The Hinge brought to Virginia Avenue 56 market-rate apartments over a parking garage with 57 spaces, along with 12,000 square feet of commercial space mostly occupied by Rook restaurant and The Bureau, a shared workspace.
Hinge designer Blackline Studio, which is co-owned by Von Deylen, also is the architect for Slate.
 
Please enable JavaScript to view this content.