The Indianapolis-Marion County Public Library board has decided it will no longer operate branches without ground-level access.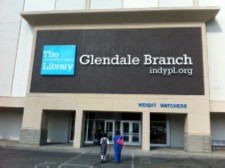 So library officials are beginning to explore moving the 25,000-square-foot branch in Glendale Town Center out of the shopping mall at 6101 N. Keystone Avenue, even though the location is one of the library system's most popular.
The branch on the second floor of the mall still attracts roughly 250,000 visitors annually. But library CEO Jackie Nytes is concerned about the location's declining traffic at a time when overall attendance at the system's 24 branches increased 1.6 percent last year.
"It's hidden away and hard to reach," she said of the Glendale branch. "It's one elevator up and down the hallway."
The branch won't be moving anytime soon, as the library's lease at Glendale doesn't expire until 2022. But by starting the search for new space now, the library can start raising money to purchase land in the area and construct a new branch.
It's possible the branch could be built on property within the mall's boundaries, Nytes said. Mall owner Kite Realty Group Trust Inc. seems to agree, saying it plans to "assist the library in assessing a potential stand-alone branch location within the perimeter" of the mall property.
"Strategically, we need to be in the neighborhood," Nytes said. "We need to be on the ground floor, we need accessible parking and we have to own the building."
The library pays Kite $189,000 in yearly rent. The amount represents 42 percent of the $448,000 in rent the library pays for its four branches that lease space, making Glendale the most expensive branch to operate, Nytes said. Other branches that lease space are Brightwood, Flanner House and Fountain Square.
This isn't the first time the library said it planned to move out of the mall. It considered leaving in 2007, about the time Kite began redeveloping the enclosed mall into an open-air version. The library stayed after the two parties reached more agreeable terms.
The Glendale branch opened in 2000, a year after Kite bought Glendale from Chicago-based Equity Properties & Development LP for $20 million. It spent another $11 million into the redevelopment.
 
Please enable JavaScript to view this content.