Ever pass by the unfinished construction site on North New Jersey Street downtown across from the Hudson condo development and wonder what happened?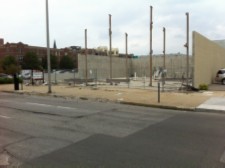 Work started about three years ago but abruptly stopped after just a concrete floor slab and three exterior walls were built. It has remained in the same state ever since.
Bob Lindgren of commercial real estate brokerage Lee & Associates is marketing the property at 123 N. New Jersey St. for landowner Moe Hanif in hopes of attracting another restaurant to the location.
Hanif, who owns the nearby Citgo station, bought the land in 2007 and had plans for a seafood restaurant called Bluewaters, according to site plans, before the operator abandoned the project.
Lindgren cited economic uncertainty, lack of two-way traffic on New Jersey Street, and the inability to secure nearby parking as concerns that prevented the restaurant from going forward.
The area is undergoing major changes that give Lindgren hope that the site can attract another restaurant. It's nearly across the street from where Flaherty & Collins Properties is planning to build its 28-story, $81 million mixed-use development on part of the space where Market Square Arena once sat. Directly south of the F&C project, Cummins Inc. plans to build a $30 million global distribution headquarters that eventually could hold 400 employees.
"We have a good amount of activity going on," Lindgren said. "Hopefully, we'll have something to talk about in the next several weeks."
Gary Perel, a retail broker at Newmark Knight Frank Halakar, agreed that the location faces challenges, but he's also encouraged by its potential.
"Several years from now, once the tower is up and more retail fills in, it could be a good location," he said. "You just need the population density there to increase."
Just behind the site, the building at 416 E. Wabash St. also is unoccupied. Former occupant The Event Set, a private event caterer, closed a few years ago. Jeff Baumgartner of R.P. Lux Commercial Real Estate Services is marketing the 7,500-square-foot facility for lease or purchase.
Baumgartner, too, hopes the Flaherty & Collins' project will ignite some interest in the building.
 
Please enable JavaScript to view this content.