Milhaus Development LLC will need to tweak its design for a five-story mixed-use development it's proposing at a prominent downtown intersection near the tip of Mass Ave.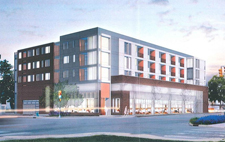 Plans call for 42 apartment units, 8,000 square feet of retail and 57 parking spaces on what's now a parking lot at the southeast corner of College Avenue and East St. Clair Street, where Massachusetts Avenue intersects the streets.
Milhaus presented its plans Wednesday to the Indianapolis Historic Preservation Commission, which encouraged the developer to seek a continuance and return next month with a revamped design.
Among the concerns: too much fiber cement and not enough masonry.
"This is an extremely important corner," IHPC Chairman and Ratio Architects Inc. founder Bill Browne said. "I think it's heading in the right direction, but it's early."
It's not uncommon for developers and IHPC to go back and forth a few times before coming to a concensus on design.
Jeremy Stephenson, Milhaus' executive vice president of development, said his firm understands the significance of the intersection and wants the project to blend in with the surrounding neighborhood.
"We understand that it's a prominent location," he said. "I think from an overall design standpoint, what we're trying to get across is a combination of a good base to the building and more contemporary architecture above. We think this is the type of project that needs to be at that location."
The architect on the project is Indianapolis-based DkGr Architects.
Milhaus originally proposed a six-story, 72-unit building for the site. But IHPC staff recommended a design scaled to other residential buildings in the neighborhood, such as the Mill No. 9 condo project at 630 N. College Ave..
Mill No. 9 is just to the south of where Milhaus is eyeing yet another project. It wants to demolish a vacant structure at 720 N. College Ave., across the street from where its Circa apartments project is under construction. In its place, it wants to build a five-story apartment building with 32 units and up to 65 parking spaces.
Also on Wednesday, IHPC approved Milhaus' request to rezone property at 602 E. 10th St. and 625 E. 11th St., where it plans to build between 60 and 90 condos in a roughly one-block area.
 
Please enable JavaScript to view this content.