A Lincoln, Neb.-based real estate firm is planning to invest up to $8 million to convert an old, vacant building on East 16th Street into a mix of apartments and retail uses, possibly furthering the revitalization of the corridor.
U.S. Property Management owns the nearly century-old building at the southeast corner of East 16th and Bellefontaine streets that housed the Omar Baking Co. from 1927 to 1966.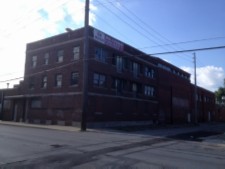 The company is seeking to rezone the 1.7-acre property and envisions 49 apartments and commercial space in the three-story structure.
"We would love to take the history of the building and bring some of that back as much as possible," U.S. Property President Monte Froehlich said. "So we're talking to a couple of restaurants, but we would love to find a niche baker just because it was a bakery building."
William Elwarner, who owned Grocers Baking Co., had the building constructed in 1915. It was originally called Elwarner Flats and featured a ground-floor retail space rented to a grocer, a downstairs laundry and upstairs apartments. Elwarner founded City Baking Co. in the building in 1918 and occupied it until selling it to Omar Baking in 1927.
Froehlich thinks its loading docks and high ceilings could help attract a craft brewery. The retail space will face the Old Northside soccer fields to the east.
The building, designed by Graham & Hil Architects, is structurally sound but needs a complete renovation, Froehlich said.
The Metropolitan Development Commission's Hearing Examiner is set to hear U.S. Property's request in August to rezone the property. The company plans to start work the following month with the goal of a spring completion.
If the project comes to fruition, it will be yet another addition to a stretch of East 16th Street that's starting to attract serious attention.
A few blocks east, Noblesville-based Slane Capital is developing another century-old vacant building for Better Retail, which plans to move its headquarters from Hamilton County while converting the dilapidated structure into a hub for food-and-beverage startups.
Work on the three-story, 30,000-square-foot building and a smaller accompanying structure is expected to start in August, with completion expected early next year.  
Across the street, the former Gleaners Food Bank of Indiana Inc. building is poised for redevelopment, too. John Watson, whose company refurbished the old Bush Stadium into Stadium Lofts, bought the Gleaners building upon its departure in 2010 and is listing it for $899,000.
And, to the west, Peter George and Thomas Main are set to open their Tinker Street restaurant in August in a 900-square-foot building at 402 E. 16th St. The Tinker name is an ode to 16th Street's original name.
 
Please enable JavaScript to view this content.