A couple more craft-beer establishments are on tap for next month:
• Two Deep Brewing will begin serving its craft beer selections Aug. 2 in a 7,000-square-foot space at 714 N. Capitol Ave. near the Cultural Trail.
Indianapolis native Andy Meyer, 34, quit his job at NCM Media Networks to launch the operation after he "fell in love" with craft beer while living in Chicago, he told IBJ. He enrolled in the Siebel Institute of Technology, a brewing school in the Windy City, to help hone his skills. Two other partners also are involved in the business.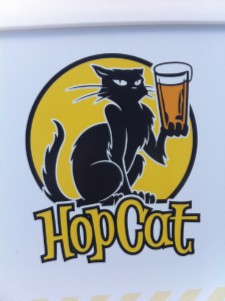 • HopCat, a Michigan-based bar chain specializing in craft beers, is set to open its $2.5 million location Aug. 16 in the heart of Broad Ripple. The bar will anchor the long-vacant corner space in the Broad Ripple parking garage on the southwest corner of College and Broad Ripple avenues. It will be HopCat's third location and first outside Michigan.
Opening night will feature 130 Indiana beers on tap, and everyone attending will get a free order of "crack fries." Special incentive to show up early: The first 200 people in the door receive a card good for a free order of the fries every week for a year.
In retail:
• Profyle Boutique is set to open Aug. 22 in 1,800 square feet in the Ironworks apartment-and-retail development at the southwest corner of North Keystone Avenue and East 86th Street. Profyle joins Ruth's Chris Steakhouse, which is expected to start serving steaks within the development Aug. 18.
Profyle is a high-fashion clothing and accessories boutique operated by the husband and wife team of Nigel and Wandini Riggins, both local attorneys.
On the food front:
• Local restaurateur Neal Brown (if you missed it in IBJ's North of 96th) is bringing his Pizzology Pizzeria + Pub to the Village of West Clay in Carmel. Construction on the restaurant is set to begin immediately, with a target opening of late September.
The Neal Brown Hospitality Group signed a lease for the long-vacant Pamfilio's Italian Restaurant space in the Brenwick Building at 12821 E. New Market St., in the heart of the high-end community's commercial Village Center.
Brown opened his Mass Ave Pizzology in May.
• Chick-fil-A says on its website it will open Sept. 25 at 6231 N. Keystone Ave. The suburban Atlanta-based fast-food chain is building a 4,500-square-foot restaurant where a Fazoli's was located. Chick-fil-A operates 13 restaurants in the Indianapolis area.
• City Barbeque also plans to open at the end of September, in an outlot of the Wal-Mart Neighborhood Market built at State Road 37 and 131st Street in Fishers as part of a 104-acre mixed-use project on a former golf course.
The Columbus, Ohio-based chain has 22 locations in Ohio, Indiana, Kentucky and North Carolina. The four in Indiana are all in the Indianapolis area: Avon, Carmel, Greenwood and downtown Indianapolis on West 11th Street.
• Earth Fare opened July 16 in Greenwood at 2110 E. County Line Road, in the former Office Max location nearly across the street from the rival Fresh Thyme Farmers Market that opened last month.
Earth Fare has stores in Carmel and in Noblesville.
• Aldi began selling groceries July 11 at 4470 Lafayette Road in a 12,200-square-foot store built by the Batavia, Ill.-based chain.
 
Please enable JavaScript to view this content.