Plans for Butler University's new residence hall show two buildings along Sunset Avenue by the campus entrance connected by a multi-level glass atrium.
The university announced in July plans for a major campus upgrade that will begin with the construction of a 654-bed residence hall and roughly 1,000-space parking facility.
Construction on the five-story garage will begin in September, with completion expected in August 2015. Work on the dormitory should start in April and be finished in the fall of 2016.
The project's total cost is roughly $60 million—$40 million for the residence hall and $20 million for the parking garage.
Architectural renderings were available last month for the parking garage but not for the dormitory. The parking facility, which will include 15,000 square feet of ground-level commercial space, will be constructed on an existing lot between Clowes Memorial Hall and Lake Road.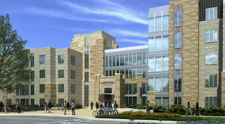 The two-building residence hall will be constructed along Sunset Avenue to the south of West 46th Street and the campus entrance, on the current Irwin Library parking lot. The northern building is five stories and the southern building is four stories. The glass connector in the center runs parallel to the library.
"Essentially, what we wanted to avoid in that design was building a wall and blocking off the neighborhood," said Ben Hunter, chief of staff to President James Danko.
The architect for the residence hall is Chicago-based Solomon Cordwell Buenz.
Drawings for the hall show an academic building, which would house the university's college of business, to be built behind the new dormitory to the west. Plans also show a smaller academic building that would be constructed south of the library. Plans for that building have not been finalized, Hunter said.
The residence hall is part of a larger effort to add more on-campus housing. Butler and Austin, Texas-based American Campus Communities are partnering to build the dormitory, with ACC funding construction costs and maintenance, and splitting revenue with the university.
Butler is funding the cost of the parking garage. It will be built by Indianapolis-based Keystone Group. Indianapolis-based CSO Architects Inc. is the architect.
 
Please enable JavaScript to view this content.